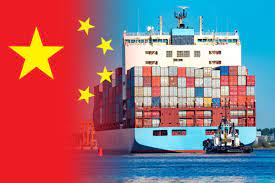 This is an irony that hurts. As India's journey towards economic recovery has begun, its heavy dependence on China for imports has once again been exposed.
In the last financial year (2021-22 or FY 22) imports from China, according to Commerce Ministry, has increased by a whopping 44.3 percent. From Rs 4.82 trillion in FY 21, it has grown to Rs 7.02 trillion (in US dollar 94.16 billion) terms in FY 22. And the same trend is continuing even in the present year.
If you think this has been matched by an increase of Indian exports to China too, well, the case is just the opposite. Indian export to China grew by negligible 0.61 per cent in FY22.
This is the dismal picture of atmanirbhar Bharat, and the upshot of the call for 'boycott Chinese goods' after China's aggression riled every Indian. As far the common man is concerned, they did boycott various Chinese goods and are still continuing with it. But that does not affect China, as our industries are heavily dependent on Chinese supply.
The major items in the import list are electrical machinery and equipment and sound recorders (these items are nearly one-third of the total import from China), organic chemicals, boilers and mechanical appliances. India's dependence on Chinese imports has increased for computer hardware, electronic components and chemicals.
With Russia's invasion of Ukraine and China's alliance with it going strong, the whole world is worried about China's role in the supply chain. In case of a real crisis, China can leverage this by stopping supply of the essentials to any or a group of countries. So, India's heavy dependence on China is fraught with different sorts of expected dangers. But, what is the way out?
While this dependence on China is not a sudden trend, some experts feel it can be reversed, but only if our manufacturing sector grows heavily. That was what the present union government was trying to promote for some years, but the pandemic and the fuel price induced inflation (partially the government's own creation) has hampered it. Unless it can be fast tracked, India will remain vulnerable.
In fact, the situation shows the emptiness of tall talks of some strategic experts explaining India's advantage against China in case of a major clash. During India's recent border skirmishes with China, after which the 'boycott Chinese goods' sentiment rose high, different TV channels aired such views. However, it is amply clear now that the reality is quite different.
The economy is the real strength of a country, and nothing helps it otherwise. Indian economy is at a weak spot now, and it needs to be incentivized on two major counts: First, allowing the manufacturing sector to flourish in an unprecedented way, and second, aiding the demand side.
However, high rate of inflation is a villain in the whole story. Though it is happening across the globe, our RBI has continuously misread the situation while the government has fuelled it by increasing the fuel price to have buoyancy in revenue earning.
Now, with the RBI hiking repo rate and the banks quickly raising interest rate for the borrowers (while not giving proportional benefits to the fixed deposit holders), the growth of manufacturing sector will continue to be hampered. So, it will not be easy for India in the short run to have any economic defense against any probable Chinese economic onsiaught.
The only other way out is dependence on a different supply chain and work closely with the US to develop it. The US has become India's largest trading partner in 2022, surpassing China. Though India's exports to China grew by 33.59% in FY21, it increased only by 0.61% last year (FY22), and the major items of exports are iron and steel, ores, slag and ash, organic chemicals etc. But India's export to the US is steadily increasing. India exports much more to the US than it imports from that country.
The question is whether the US will remain as heavily invested in the Indo-Pacific in the coming years in the wake of the Ukranian War. With the geo-political gravity once again shifting to Europe, the cradle of two World Wars, the US will have all the reason to concentrate on Europe. But, perhaps, it will still be invested in building up alternative supply chains that will help India to reduce its dependence on China. – INDIA NEWS STREAM