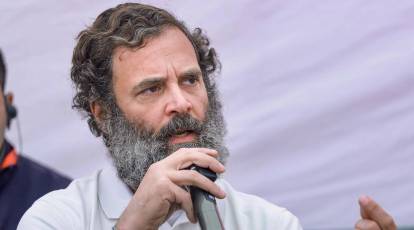 Congress leader Rahul Gandhi on Monday extended support to the demand for restoration of Jammu and Kashmir's statehood during the Bharat Jodo Yatra, a statement which is likely to be rebutted by the BJP.
In the final phase of his nation-wide march, Rahul said: "There's no bigger issue than your statehood. They (Centre) have snatched away your right. Congress party will show full support, it will put all its might behind restoring statehood," said Gandhi.
He said: "A delegation of Kashmiri Pandits met me today. I was shocked by what they told me. They said that Lieutenant Governor Manoj Sinha told them they should not beg. This is appalling. I want to tell the LG that he should apologise to these people," Gandhi can be heard saying at a gathering on Monday.  The party shared the video of the meeting.
Congress's communication in-charge Jairam Ramesh tweeted: "Today, Rahul Gandhi met a delegation of Kashmiri Pandits; the following was discussed -They haven't received any salary from the state government for almost 6 months because they have been protesting the targeted killings of Kashmiri Pandits (sic)"
"Rahul Gandhi asked them to prepare a three point memorandum. He will be writing a letter to PM Modi today and will also raise the issue in Parliament. He has promised to send a high powered delegation from the Congress party to the Valley on the matter of Kashmiri Pandits," another tweet read.
While the mainstream political parties in India have remained reluctant to speak up on the issues, political parties of the erstwhile state have been repeatedly targeting the BJP over the issue of statehood J&K. Interestingly, the BJP leaders have said that the issue can be considered.
The BJP-led NDA government at the Centre stripped Jammu and Kashmir of its special status granted under Article 370, one of the core agenda of the saffron party, in August 2019. The state was also divided into two union territories, Jammu and Kashmir and Ladakh.
-INDIA NEWS STREAM