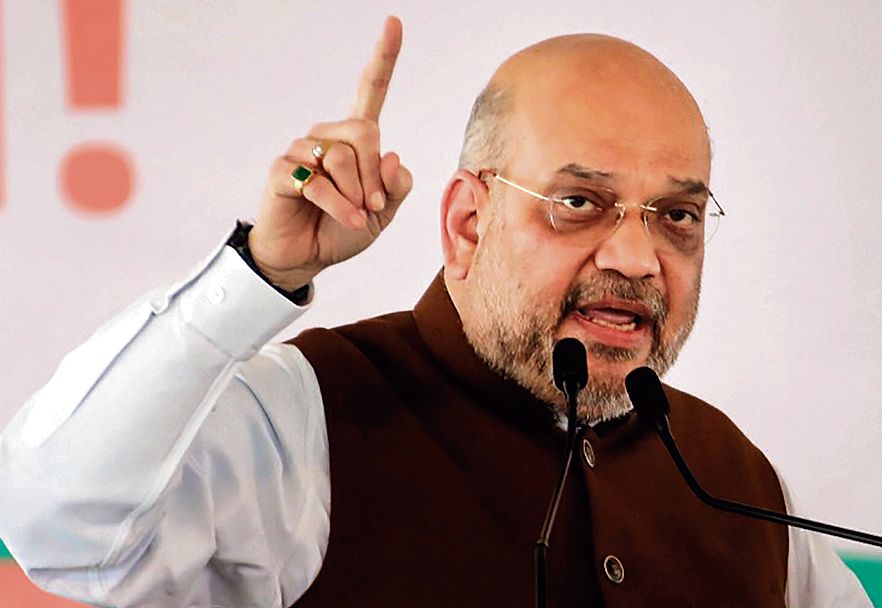 Amit Shah (File photo)
Ram Temple issue was being stalled by the Congress… It was after when PM Modi came to power that the SC gave its verdict
Shah asserted that the BJP-led government wiped out terrorism and brought all-round development to the northeastern state
The Communist Party gave rise to "violence, border intrusions and drug trafficking"
Union Home Minister and top BJP leader Amit Shah at a public rally on Thursday touched upon the issues of terrorism and Ram temple ahead of the Tripura state assembly elections.
He claimed that Ram Temple in Ayodhya will be ready on January 1, 2024, alleging that the Congress had been hindering the Babri Masjid-Ram Janambhoomi case in court since independence. However, the Supreme Court's verdict on the matter came after Prime Minister Narendra Modi came to power, Shah said.
"The Ram Temple issue was being stalled by the Congress ever since the independence. It was after when PM Modi came to power that the Supreme Court gave its verdict and the construction of the temple began the same day following a 'bhoomipujan'," Shah said addressing the public.
Shah said Rahul Gandhi, then Congress president, used to seek for dates on the construction of the temple. He advised the public gathered at the event to book early tickets as "on January 1, 2024, sky high Ram Temple will stand ready there (Ayodhya)".
Slamming the three-decade rule of CPI in Tripura, Shah asserted that the BJP-led government wiped out terrorism and brought all-round development to the northeastern state. He alleged that the Communist Party gave rise to "violence, border intrusions and drug trafficking". "We have brought an end to terrorism in Tripura through peace talks with the NLFT (National Liberation Front of Tripura), and resettled internally displaced Brus in the state," he said.
He added, "In its 50-year history, Tripura has been under Communist rule for more than three decades. I want to just ask, the violence and the cadre-based rule that was prevalent in the Communist time, is it seen today?"
Recalling the 2018 assembly polls, the senior BJP leader said he had raised the slogan 'Chalo Paltai' (Let's Bring Change) to bring an end to the "Communists' misrule".
Chief Minister Manik Saha, Union Minister Pratima Bhoumik and Rajya Sabha MP Biplab Kumar Deb were among those present at the flagging off programme of the 'Jana Viswas Yatra', according to PTI.
A total of 100 rallies and roadshows will be organised across the state as part of the yatra, which will conclude on January 12.
-INDIA NEWS STREAM