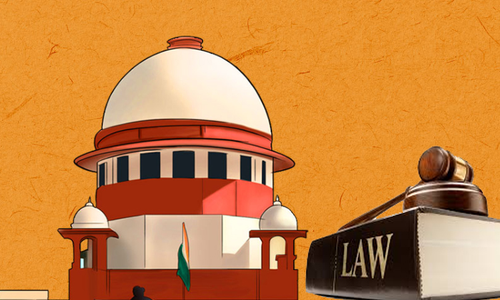 New Delhi, Oct 13 (IANS) The Supreme Court on Friday asked Andhra Pradesh to "stay its hand" in arresting TDP supremo and former Chief Minister Chandrababu Naidu in connection with the alleged Fibernet scam case.
A bench of Justices Aniruddha Bose and Bela Trivedi issued notice and sought response of the state government on Naidu's plea filed against an decision of the Andhra Pradesh High Court refusing to grant him anticipatory bail.
The bench listed the matter for further hearing on October 17 and orally asked the investigative agency to not arrest TDP chief in the meantime.
Senior advocate Sidharth Luthra, appearing for Naidu, apprehended that former CM is very likely to be arrested on Monday before the apex court could take up the special leave petition seeking anticipatory bail in this case for further hearing on Tuesday.
At this, the top court asked senior advocate Mukul Rohtagi, who appeared for state government, to hold the arrest of the petitioner till the next date of listing.
Rohtagi assured that he will seek deferment of proceedings coming before the trial court till Wednesday.
Earlier on Monday, a bench of Justice Suresh Reddy of the High Court had dismissed Naidu's three pleas seeking anticipatory bail in different cases.
He has been accused of playing a "key role" and pressuring officials to favour a particular company in awarding the FiberNet contract in Anadhra Pradesh.
Naidu remains in judicial custody in the alleged multi-crore skill development scam case in which the CID had arrested him last month. He is currently lodged in the Rajahmundry Central Jail. – IANS