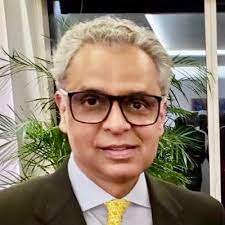 New Delhi: India has given a strong signal to the world of the role it wants to play on issues of global interest, with Prime Minister Narendra Modi on Monday becoming the first Indian leader holding this post to address the UNSC as chair. That is how seasoned diplomat and former permanent representative of India to UN Syed Akbaruddin sees the move.
India took over month-long presidency of UNSC on August 1, and this not the first time, but it is for the first time that an Indian Prime Minister has presided over the proceedings. Modi chaired a debate on maritime security titled, 'Enhancing Maritime Security — A Case for International Cooperation'.
"This reflects the willingness of the Indian leadership to engage globally on issues of global interest," Akbaruddin said talking to India News Stream
on the symbolism of the Prime Minister's decision to lead the debate.
India has earlier enjoyed presidency of the UNSC seven times, but participation in its debates at the top level never happened.
" Now we should see the big picture in the Prime Minister's presiding over yesterday's debate at the UN body.This shows that India is willing to take intitiative in global affairs at a very high level, Akbaruddin said.
In 1992, though the then prime minister Narsimha Rao attended UNSC meeting but did not prticipate.
"If you send a first secretary to preside over, it is a signal, if you send an ambassador to do the job, it is a signal, if you send a minister to peform the task, it is a signal, and when you have a Prime Minister himself doing it, it is a signal, a signal to the world, of how the country sees itself and wants to be seen by others in the global affairs of common interest," said Akbaruddin.
Though many other world leaders like Barack Obama have presided over the debate at the top UN body, but no Indian Prime Minister ever did, said Akbaruddin, who headed the India's permanent mission at UN head quarters for four years. A 1985 batch Indian Foreign Service officer, Akbaruddin was India's permanent representative at the United Nations at New York from January 2016 to April 2020. Earlier, he also served as official spokesperson of the Ministry of External Affairs from January 2012 to April 2015 and was India's representative at IAEA from 2006 to 2011.
This is the eighth time that India is holding chair of UNSC, and it has come at a troubled time in its neighbourhood and extended neighbourhood with the prevailing situation in Afghanistan and Myanmar and West Asia. The first presidency had also come at a crucial period in Indian history, and that was in 1950-51 when the UN body had to deal with the Kashmir issue and the Korean crisis.
The last time India held the UNSC chair was a decade ago during 2011-12. Other terms were in 1967-68, 1972-73, 1977-78, 1984-'85 and 1991-92.
–INDIA NEWS STREAM