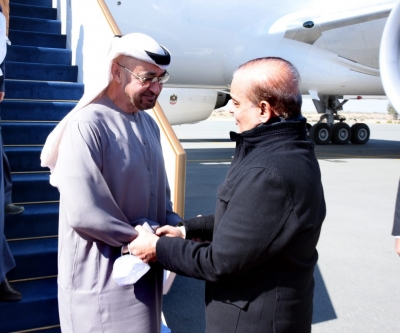 Islamabad: United Arab Emirates (UAE) President Sheikh Mohamed Bin Zayed Al Nahyan has dropped clues that his government is planning to broaden its investment footprint in Pakistan as the country drastically needs foreign inflows to prop up its deteriorating economy.
The royal dignitary arrived in Pakistan on a private visit and held a bilateral meeting with Prime Minister Shehbaz Sharif, who received the UAE President at the Chandna Airport along with other government functionaries, Geo News reported.
"Be prepared, the UAE will make a huge investment in Pakistan," the sources quoted the UAE president as saying during a cordial meeting with the premier at the airport.
Shehbaz recalled his recent visit to the gulf country and emphasised that both countries would work on the understanding reached between the two leaders in various fields, during his visit to the UAE.
The UAE President said that the brotherly relations between the two countries went back many decades and his father, who had immense love for Pakistan and its people, laid the foundation of their bilateral ties.
The President also assured the Prime Minister that the UAE would always stand by Pakistan, Geo News reported.
Taking to Twitter, the premier wrote: "Extremely delighted to receive my brother His Highness Sheikh Mohamed Bin Zayed on his arrival in Pakistan, which is his second home. Building on our last meeting, we discussed ways (and) means to further strengthen our brotherly relations."
The President expressed warm affection towards the prime minister on his arrival in Pakistan and took the premier to his personal jet, sources told Geo News.
The premier also met the family members of the president and held conversations with his children in the English and Arabic language, the sources added.
The UAE, on January 12, agreed to lend $1 billion to Pakistan and roll over an existing $2 billion loan, the country's information minister had said, as the country's central bank foreign reserves fell to just three weeks' worth of imports.
The UAE's financial support offered some respite to the country that is still reeling from devastating nationwide floods that have caused more than $30 billion of damage, Geo News reported.
IANS