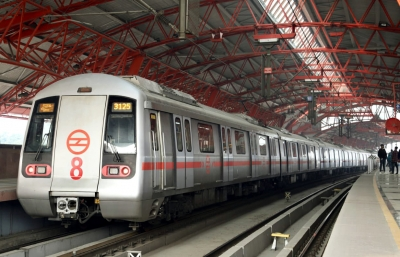 New Delhi: In view of deteriorating air quality and with GRAP-II in force, the Delhi Metro on Tuesday announced that it will run 40 additional train trips on weekdays (Monday to Friday) across its network starting from Wednesday.
"As part of the various measures being adopted by the Delhi government to combat pollution under GRAP-II stage, DMRC will be running 40 additional train trips on weekdays (Mon-Fri) across its network starting from tomorrow," said the DMRC spokesperson.
"This has been planned to intensify the use of public transport among passengers across Delhi-NCR. Usually, over 4,300 trips are performed by Delhi Metro trains everyday," he said.
Graded Response Action Plan (GRAP) stage-II has been invoked in Delhi and its surrounding areas as air quality dipped into "very poor" category, owing to unfavourable meteorological and climate conditions, said the Commission for Air Quality Management (CAQM).
It said to strictly implement the schedule for regulated operations of DG sets across all sectors in the NCR including industrial, commercial, residential and offices etc. It further said to augment CNG/electric bus and metro services by inducting additional fleet and increasing the frequency of service.
It said that Resident Welfare Associations have been directed to necessarily provide electric heaters to security staff to avoid open bio-mass and MSW burning during winters.
IANS