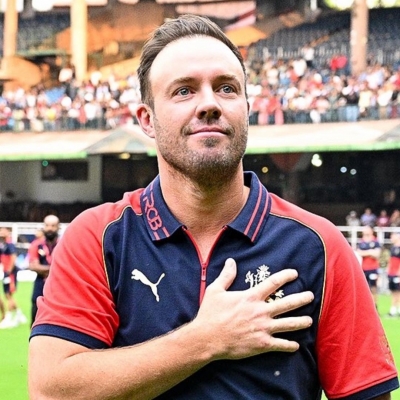 New Delhi: AB de Villiers on Tuesday penned a heartfelt note for Royal Challengers Bangalore (RCB) after being inducted into the RCB Hall of Fame and also thanked the franchise for retiring his jersey number.
In a star-studded RCB Unbox event held at the Chinnaswamy Stadium on Sunday, De Villiers along with West Indies legend Chris Gayle was honoured by the franchise by being inducted into the Hall of Fame.
The Bangalore-based franchise also retired their jersey numbers — De Villiers's No 17 and G'yle's No 333 as a mark of respect for their contributions.
Taking to social media, the South Africa legend expressed his appreciation for RCB and their fans, revealing that it was an emotional moment when he entered the dressing room balcony of Chinnaswamy Stadium, with tears welling up in his eyes.
"So, on March 26, 2023, Chris and I were inducted into the RCB Hall of Fame and our jersey numbers retired forever. My heart blossomed as my wife, two boys and a little girl walked up the stairs to enter our RCB den, stairs that I have walked up so many times with butterflies fluttering in my stomach. It felt weird to walk up there in a different state of mind," de Villiers wrote in an Instagram post.
"Tears filled my eyes when I stepped onto the balcony of our dressing room at the Chinnaswamy in front of a packed stadium. I never thought hearing the chants of ABD could beat the first time, but this time was different. It used to be adrenalin combined with an extreme hunger to please the cry out of our fans to find a way to win. This time it was a sea of emotion that filled my body as I simply felt grateful to have had my time in the arena representing a proud city, an amazing franchise and incredible teammates," he added.
"So many special memories rushed back as I thought of all my days spent in India since 2003, I have a deep connection with this country and i's people. I'll forever be grateful!"
"Thank you, teammates, especially Virat, thank you RCB, thank you Bengaluru," he concluded.
The South African great, who announced his retirement from all formats of cricket in November 2021, joined RCB in 2011 and scored 4522 runs in 144 innings at a strike rate of 158.33. – IANS