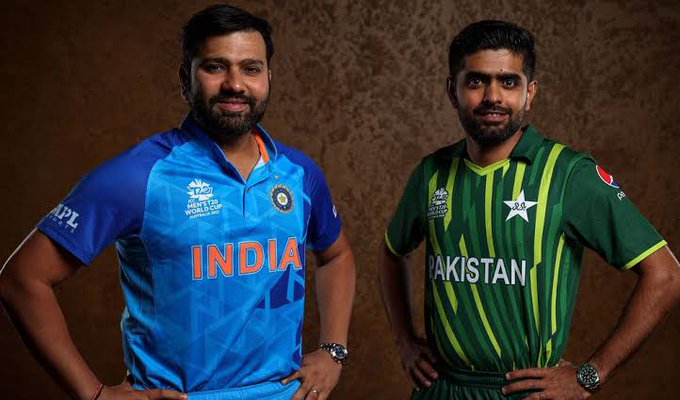 The India–Pakistan cricket rivalry is something which all people are aware of and I as student activist was afraid of it. The tense relations between the two nations has sprouted a sporting rivalry between the two nations which shared a common cricketing heritage.
India vs Pakistan matches have always been about more than sport. Today any cricket match between the two nations is one of the most watched events on the global sporting calendar. India Pakistan matches are always preceded by a lot of hate. No sooner a match is over, it becomes a Hindu Muslim issue irrespective of who wins and who loses. The people in India and Pakistan should understand that world Cricket doesn't revolve around these two nations only nor are all cricket loving nations interested in who wins or who loses in these matches. India and Pakistan match often steals the glamour of cricket from other nations.
In a recent interview when the English captain was asked about India and Pakistan final. He responded by saying that the Englishmen  are aware about people anticipating that but, we will make sure that doesn't happen. As if cricket has to cater to the interests of only Indo-Pak people. Other cricketing nations would be feeling offended over this attitude of getting sidelined.
When India and Pakistan last time faced each other in a T20 World Cup match on 28rd October and before that in Asia Cup this year, keeping the past incidents in view, we had to issue advisories to all students of J&K studying across India to take the game in its spirit and stay away from any posts on social media which might lead them into trouble. With memories of the arrest of three Kashmiri students in Agra for allegedly posting pro-Pakistan social media posts after it won a match in the T20 World Cup last year still fresh, we had to caution students that take it as just another game and stay away from trouble.
Whenever there is a bilateral contests between the two countries in playground we have to grid our lions to avoid any untoward incident, because of unnecessarily generated hype and use of victory to promote their respective nationalism. However, Irrespective of personal likes and dislikes, I, as a person was happy when Zimbabwe pipped Pakistan by 1 run and Pakistan's final hopes were to all intents and purposes over at that time as they were on the brink of elimination.
As being a part of student association, I was initially happy assuming that Pakistan won't be playing finals. For me it meant no replay of unending ordeal Of three Kashmiri students, who were earlier jailed for India-Pakistan Cricket match. However, Pakistan's dramatic entry to finals again became cause of concern for me as it created possibility of much awaited marquee clash between India and Pakistan in finals. As the possibility of a T-20 rose between India and Pakistan, so rose my worries. Like minded people from JKSA shared same concerns. Our scare went down after India was drubbed by 10 wickets by English in the T20 World Cup semifinal. Though It's not the sort of end to their World Cup campaign that India would have liked, but we took it as blessing in disguise.
To be frank, I am not any emotional cricket fan and have no particularly affinity or emotional investment towards any particular cricket team, be it India Or Pakistan. I endorse Virat Kohli for his cricket, so is the case with Babar Azam. This is true that the moment India lost its semi-final against English, we knew that the road ahead for our folks was going to be easy. For a minute, If India had won and Pakistan had lost our happiness over their loss would have been the same like it on India. The day Netherland defeated South Africa and Pakistan defeated Bangladesh and qualified for final of world cup, we were fearing, final would be between two Arch rivals- India and Pakistan. Keeping circumstances and present charged atmosphere in (amid elections) it could have serious consequences both in long term and short term. Emotions on both sides were running high as people across South Asia were waiting for this biggest sports event. Cricket is not just gentleman's' game anymore in India, it has been mixed and linked with politics and nationalism. It carries emotions. Political relationship between the two countries defines everything else including cricket. Whenever both the countries come face to face, politics definitely follows.
India Pakistan match often results in an outpouring of passions from cricket fans; which becomes a cause of anxiety for us, because of the fear of repetition of previous incidents where Kashmiri students suffered as a collateral damage, even being booked under Sedition for allegedly celebrating Pakistan's win. There has been long list of incidents where Kashmiri students were either beaten, booked or expelled from their respective institutions whenever there was India-Pakistan clash or cheering the Pakistan team
Every time before the India-Pakistan Match, we have to issue advisories to our all state committees across the country, urging them to make sure that students don't involve themselves in unnecessary debates before or after the game. Hence, Students studying in different institutions should not give the system apparatus a chance to scapegoat them as criminals. There remain sense of anxiety among parents as well back in Kashmir who often make frantic calls and advising their wards to remain silent and don't get indulge in any celebration, as silly game can put their lives in danger.
India Pakistan Match have resulted more often like war. Pressure, nationality & the emotions of millions have always been at the core of the game. T20 cricket World Cup made us to witness electrifying games & we all saw some unexpected results. Cricket lovers not only from these nations but from whole world want it to happen so they may enjoy the game whereas this match for Kashmiris particularly those who study outside J&K is something beyond a game as in past it didn't come as a source of entertainment rather a reason of humiliation, assaults' and even of expulsion from Universities & Colleges followed by sedition. What happened last year in Agra, Punjab and Karnataka will haunt those students forever, thus world waits for India-Pakistan to happen, whereas glancing the political situation of present times students from J&K, particularly studying outside pray for this game never to happen ever, at least till the time when game will be seen as game and not as a war. They will be happy as the arch rivals are not facing each other in the world cup. This can be seen in the present context of political atmosphere. In this atmosphere, India and Pakistan playing in world cup final would have been extremely politicized event. In this side, the Kashmiri students would have became extremely vulnerable taken to their regional identity. Cricket between these two neighboring countries should have utilized for bringing the people towards friendship. Games become bridges for nations. Hatred, narrow-mindedness, bigotry and prejudices are unethical to the spirits of sportsmanship. But from the past incidents, Kashmiri students have been used as cannon fodder in such game's.
India- Pakistan Final wasn't going to be the final only but a ticket for spreading more communal hate and disturb peace. This could have become fully cherish game, but unfortunately due to insensitive commentary made by people on both sides leads it to harsh sports for Kashmiri students. We are happy that the day of nightmare for the Kashmiri parents has been avoided. Now our parents can live peaceful on the day of Final.
(The writer is the National Convenor of the J&K Students Association, views expressed are his own)
-INDIA NEWS STREAM