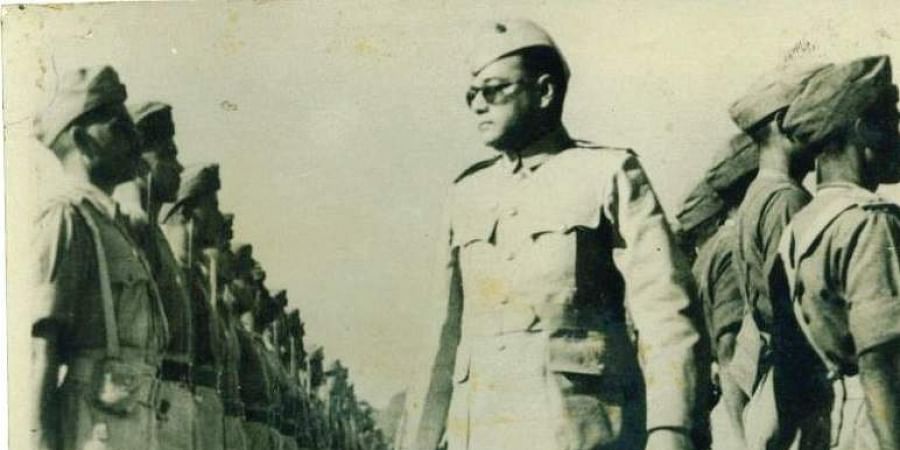 The timing of the central government's resurrection of Netaji Subhash Chandra Bose to the centre-stage position again is interesting. It has long been known that Netaji's 125th birth anniversary would happen on January 23, 2022. So why was the announcement to instal a statue of him in the canopy near India Gate, once occupied by a British monarch, made barely two days before his birth anniversary? This year's Republic Day ceremonies were also launched from January 23 with the unveiling of a hologram statue of Bose in the canopy where a statue once stood of the British monarch George V.
That announcement coincided with a very controversial decision to extinguish the flame at the 'Amar Jawan Jyoti,' or memorial to the unknown soldier, which has burnt for 50 years, to commemorate those who died to achieve the victory over Pakistan and the liberation of Bangladesh in 1971. While the government claims that flame was not extinguished, but 'merged' with the eternal flame at the recently built National War Memorial, the fact is that the monument at AJJ, under the India Gate, lies in darkness like a discarded relic, negating the homage paid there for half a century.
It appears that the government was aware that there would be an outcry against the decision to withdraw the homage from the AJJ, therefore the announcement was made to bring Netaji back to centre-stage.
Bose, a member and president of the Indian Congress party, left the party and India in 1940 to seek assistance from his "enemy's enemy," the forces in Germany and Italy and then Japan. His 'enemy' was Britain. Like other Congressmen and most Indians, he wanted the end of British colonial rule in India. When Britain declared war against Nazi Germany in 1939, Bose saw a chance to liberate India by aligning with the 'Axis' powers, Germany, Italy and Japan.
After forming the Indian National Army, Bose tried to militarily liberate India, with the help of the Japanese. When Japan lost the war, Bose tried to leave Formosa (now Taiwan) and go to Manchuria and on to Russia to seek assistance. Reports suggest that he died in a plane crash during take-off from Formosa (now Taiwan), on August 18, 1945. Some ashes, supposedly belonging to Bose, are preserved in a shrine at the Renkoji Temple in Tokyo.
Claiming that Bose did not die in a plane crash in 1945 but was killed at the instance of Soviet dictator Joseph Stalin, BJP leader Subramanian Swamy had said he had papers to back his claims.
The Rashtriya Swayamsevak Sangh (RSS), the ideological mentor of the current government, has always sought to portray the Nehru-Gandhis, particularly Jawaharlal Nehru and his daughter Indira Gandhi, as having been antagonistic to Bose. This effort peaked soon after the Prime Minister Narendra Modi – led government first assumed office in 2014.
In a series of tweets after he met with a group of relatives of Bose in October 2015, Modi had said his government would open to the public all the files in the government's possession. The process of declassifying the files would begin from January 23, 2016, Bose's birth anniversary. Having decided to unveil those files in the Indian government's possession, Modi said he would personally request foreign leaders to do the same with files in their custody, starting with President Vladimir Putin of Russia.
Much fanfare surrounded the de-classification of files related to the circumstances surrounding the disappearance and death of Netaji. The media speculated that declassifying the files would somehow implicate Nehru and show up his role in the mystery surrounding Bose's death. That did not happen.
The West Bengal state government led by Mamata Banerjee in September 2015 also declassified and released 64 files in its possession, but found no official proof about Bose's alleged death in a Formosa plane crash in 1945. It is unclear what actually happened, though two Indian government-appointed Commissions of Inquiry accepted that Bose had died in 1945. However one, appointed in 1998, said Bose did not die in the crash and had escaped to the Soviet Union, providing endless fodder for speculation. The Bose family largely believes that he died in August 1945 and that his ashes are preserved in the Renkoji shrine.
Former Prime Minister Indira Gandhi unveiled the AJJ after the 1971 war and liberation of Bangladesh. Both Bangladesh and India jointly celebrated the 50th anniversary of that historic event last month.
It is likely the Modi government chose to re-ignite the persona of Bose to show up those opposed to the closure of the AJJ as those who, like Nehru, were antagonistic to Bose. Sadly, that is historically not true. In fact, Nehru and Bose were allies and socialists within the Congress.
In the selective recollection of historical events as a 'zero sum game,' there have been suggestions that Nehru was responsible for what happened to Bose, not realising that Bose and Nehru shared a very special, close personal bond. Bose was the only Congress leader in Switzerland with Nehru when Kamala Nehru died. After Bose's death, Nehru arranged a special trust from the Congress Party's own funds to ensure that a monthly stipend was given to Bose's wife and infant daughter. Nehru also personally participated in the 1946 trials to free the INA prisoners of war.
According to the records, it was Sardar Vallabbhai Patel, whom the current government has also pitched as being denied his due by Nehru, who disliked what he thought was Bose's defiance of Gandhi and therefore appeared antagonistic to Bose. Since 2016, the Netaji issue has been not been foregrounded.
Given the nationalistic sentiments the BJP-led government espouses, particularly in the run-up to elections, the decision to again project Netaji appears to be aimed at garnering popular support. However, as Bose's daughter, Anita Bose-Pfaff said in an interview after the announcement that Netaji's statue would be placed at India Gate, the real way to honour the memory of the great patriot and nationalist, whose INA was founded on the principles of human equity, cutting across religion and gender, would be to emulate his humanist ideals. – INDIA NEWS STREAM