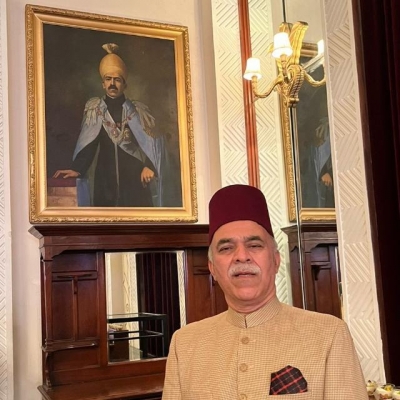 Hyderabad, Jan 22 (IANS) The coronation of Mir Mohammed Azmat Ali Khan, popularly known as Azmet Jah, as the successor of Hyderabad's eighth titular Nizam Mukarram Jah has been opposed by the latter's cousin Nawab Najaf Ali Khan.
A day after it was announced that Azmet Jah took over as the successor to his father as ninth head of the Asaf Jahi dynasty, Najaf Ali Khan questioned the anointment.
"Azmet Jah has self-proclaimed himself as IXth Nizam of Asaf Jahi Dynasty by issuing the self-declaration dated Friday 20th January 2023 issued by his office signed by 2 persons, both who are not a part of the Nizam Family only to misguide the common people and the government," said Najaf Ali Khan, the grandson of seventh Nizam Mir Osman Ali Khan.
He appealed to the common people to not be misguided by "such false self-declarations that do not mandate Azmet Jah to hold the title of Nizam IX".
Azmet Jah, a professional photographer and filmmaker who worked with leading Hollywood directors, on Friday took over as successor of his father Mukarram Jah who passed away in Turkey on January 14.
Mukarram Jah was buried at historic Mecca Masjid in Hyderabad on January 19 with state honours.
Najaf Ali Khan wondered how Azmet Jah, a man whose father did not live in Hyderabad and never learnt Asaf Jahi tehzeeb or rituals, be referred to be the head of the Asaf Jah dynasty
He argued that a "decree" can only be pronounced by a court, government authority or the head of a state. "A decree that self-proclaims a common citizen as the head of a dynasty is not legally valid, especially so after the abolishment of Titles and Privy Purses in 1971," he said
He alleged that three days after his grandfather passed away on February 24, 1967, Mukarram Jah obtained and presented a certificate that allowed him to take control of and seize all the private properties, movable and immovable wealth held by seventh Nizam.
"This led to the onset of ultimate destruction to the family as it allowed him to smuggle uncountable national and familial artifacts out of India, sell and profit from them," said Najaf Ali Khan.
In 2021, Najaf Ali Khan had approached a city court challenging Prince Mukarram Jah's claim of being the sole owner of five properties, including famous palaces belonging to the last ruler of erstwhile Hyderabad state.
He has termed "totally baseless" and "erroneous" the claim of Mukkaram Jah to be the sole owner of Falaknuma Palace, King Kothi Palace/Nazri Bagh, Chowmahalla Palace, Purani Haveli in Hyderabad, and Harewood Cedars Bungalow at Uddagamandalam (Ooty) in Tamil Nadu.
He argued that after the death of Mir Osman Ali Khan, the listed properties were supposed to devolve upon his 16 sons and 18 daughters. – IANS