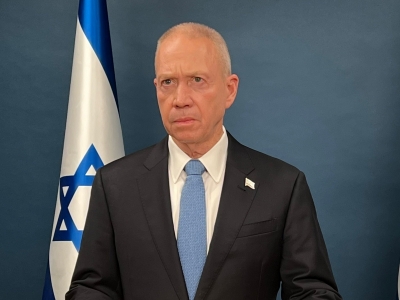 Jerusalem: Israeli Defence Minister Yoav Gallant has called on the government to immediately halt its plan to overhaul the country's judiciary, citing a threat to national security.
He is the first minister in Prime Minister Benjamin Netanyahu's far-right cabinet to break ranks and call for a freeze of the divisive plan to weaken the Supreme Court, Xinhua News Agency reported.
In a televised speech on Saturday, Gallant urged talks with opposition parties and requested the coalition to postpone its efforts of pushing ahead with the plan until the Knesset (parliament) reconvenes from its Passover holiday on April 30.
Gallant, a senior minister with Netanyahu's Likud party, said that the overhaul plan has triggered turmoil in the Israeli society and military that poses a threat to national security.
"The rift within our society is widening and penetrating the Israel Defense Forces," he said, noting "this is a clear and immediate danger to the security of the state. I shall not be a party to this."
Gallant was followed by two other Likud lawmakers and a minister, who issued similar calls to freeze the controversial plan.
The plan has sparked growing discontent within the Israeli military, with thousands of reservists with elite units, including combat pilots, intelligence officers, and cyber experts, announcing in open letters over the past weeks that they will not show up for duty if the reforms are passed in parliament.
Critics of the overhaul plan worry that Netanyahu, who is on trial for fraud, breach of trust, and accepting bribes, is in a conflict of interests.
On Saturday night, about 300,000 people took to the streets in Tel Aviv and across the country to protest against the overhaul plan. The protesters blocked several roads, including Tel Aviv's Ayalon Highway, Israel's main freeway, and the police dispersed them with water cannons.
Since the start of 2023, Israel has seen its largest protest campaign in decades, triggered by the government's plan to increase its powers over the judiciary. The plan has sparked outrage among the public and critics, who accuse the government of undermining Israel's system of checks and balances.
Dozens of former senior military officers have also cautioned over the past weeks that the turmoil within the military jeopardises Israel's capability to address security threats.
Some of Israel's closest allies, including the US, have voiced concerns about the impact of the plan on Israel's democratic institutions.
IANS