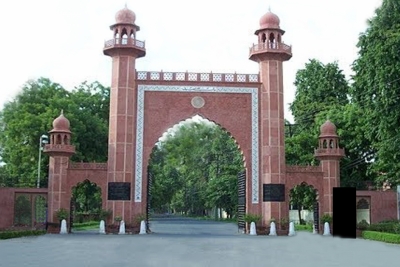 Aligarh September 30: The ongoing controversy over the unusual delay in appointing a regular vice Chancellor at AMU intensified this week after the university authorities started holding selection committees for fresh recruitment of teaching staff.
The secretary of the Teachers Association obaid Siddique dubbed these appointments as illegal and has rushed to the Allahabad High Court where he filed a writ petition on September 26 urging the honorable court to stay such appotments.
Siidiqui in his petition has sought to emphasise that that under the AMU ACT and also under the UGC regulations, "acting vice Chancellors are not authorized to make regular appointments."
A section of students have also jumped into the fray and have started a dharna at the Babey Syed gate and havd blocked the main entrance to campus since the past 48 hours now..The students are also demanding that elections to the AMU students union should be held now as the same have not been held for more than five years now.
Six members of the executive council including four elected members and two nominees of the visitor wrote a letter to the Registrar of the AMU on to immediately convene a special meeting of the executive council " for initiating " the process of selecting a new vice Chancellor. The signatories include Moinuddin , Murad khan, Musavir Ali , and M. Shamim who are all senior faculty members and two nominees of the visitor prof Geeta singh and Prof M.Rahman.
The members have expressed grave concern at the fact that despite widespread demands for starting the process of appointing a new vice Chancellor the AMU AUTHORITIES are not starting this process, "but have instead started making fresh appointments and recruitment" in violation of the directives of the HRD dated 7 August 2014 under which an acting vice Chancellor is not authorised to make permanent appointments.
The university authorities however claim that they have obtained written permission from HRD vide letter 28 July 2023 for holding the selection committees for filling vacancies.
Meanwhile a steering committee consisting members of the teaching staff, prominent alumni and two former vice Chancellors is being held in New Delhi today to chalk out a further course of action of the drive pressing for the immediate starting of the process of appointing a regular vice Chancellor.
The AMU has been under an acting vice Chancellor now for about six months now. – INDIA NEWS STREAM