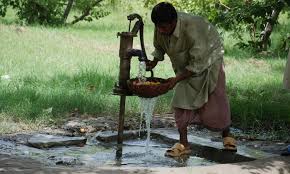 Courtesy: India Water Portal
Naz Asghar
New Delhi: There are at least 2 billion people in the world who drink water drawn from a source contaminated with faeces, and 3.6 billion people live without access to a safe toilet.
These facts were highlighted by UN agencies on the recent World Toilet Day which is observed on November 19 every year. This year the Day focussed on the impact of the sanitation crisis on groundwater. As populations rise and concentration of population in habited areas also increases, the first casualty is sanitation, mostly in underdeveloped and developing countries, where laws relating to hygiene and sanitation are poorly implemented.
Over 800 children under the age of five years succumb to diarrhoea linked to unsafe water, sanitation and poor hygiene. This water is mostly drawn from the ground. According to a UN study, groundwater provides half of all water withdrawn for domestic use, including the drinking water for the vast majority of the rural population.
The 2022 campaign 'Making the invisible visible' explores how inadequate sanitation systems spread human waste into rivers, lakes and soil, polluting underground water resources.
But, this problem seems to be invisible. Invisible because it happens underground. Invisible because it happens in the poorest and most marginalized communities.
Groundwater is the world's most abundant source of freshwater. It supports drinking water supplies, sanitation systems, farming, industry and ecosystems. As climate change worsens and populations grow, groundwater is vital for human survival.
As the situation stands today, there is hardly any chance of the world  meeting the promise of Sustainable Development Goa to ensure safe toilets for all by 2030.
The campaign urges governments to work on average four times faster to ensure SDG 6.2 is achieved on time. Policymakers are also called upon to fully recognize the connection between sanitation and groundwater in their plans to safeguard this vital water resource.
—INDIA NEWS STREAM