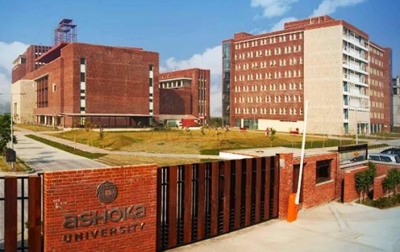 New Delhi: As many as 288 economists at over 81 institutions across the country have so far extended their support to assistant professor Sabyasachi Das after the Haryana-based Ashoka University accepted his resignation, urging the varsity to immediately reinstate him.
Das resigned from the university after his paper suggesting voter manipulation in 2019 elections sparked a controversy. Later, Professor Pulapre Balakrishnan resigned in protest over acceptance of resignation of Das.
"We, economists working in India, strongly believe that academic freedom is the cornerstone of a vibrant educational and research community, and that everyone must have the right to pursue knowledge, share their findings, and engage in open dialogue without the fear of censorship or retribution," the economists said in a joint statement.
"We stand in solidarity with Prof Sabyasachi Das and extend our support for the demands of the economics department at Ashoka University. We urge the Governing Body of Ashoka University to immediately reinstate Prof Das unconditionally."
Among the economists includes AJC Bose from Shri Ram College of Commerce, Delhi University, Abhiroop Mukhopadhyay from Indian Statistical Institute (Delhi), Archana Prasad from Jawaharlal University, Arpita Chatterjee from Indian Institute of Management (Bangalore) and Debalina Chakravarty from St. Xavier's University (Kolkata).
Meanwhile, the Media Studies Department of the varsity while extending their support to Das and Balakrishnan in a statement said: "We stand with all our colleagues in the unanimous ask for professors Sabyasachi Das and Pulapre Balakrishnan to remain as Ashoka Faculty, without delay. Recent events have once again brought up the need to create and ensure a functioning firewall between Ashoka University's Faculty and its founders/ governing body, on the protection of academic freedom and expression. This must now be a priority."
"Concrete suggestions on how to go about creating a secure space that allows free expression to flourish in academia have been made by several of our colleagues. We fully endorse the efforts to create institutional safeguards to protect academic freedoms to read, write, say and publish to rigorous standards, without fear of extreme institutional backlash."
It added: "Our department, as a collective of diverse practitioners in the media space, is well aware of both the realities and perceptions of pressure on free expression in our digitally mediated, social media driven information landscape. We are firmly of the view that a consultative approach involving the faculty in dealing with such pressures, is the only way forward."
Earlier several departments including, Economics and Political Science of the Ashoka University expressed solidarity with Das.
IANS