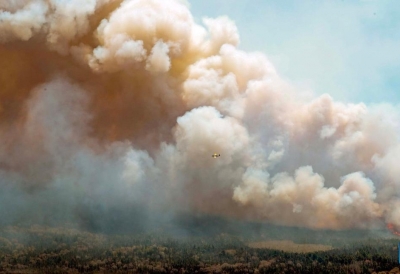 Ottawa/Oslo: Smoke from the raging wildfires in Canada, which has already blanketed parts of the US and placed around 75 million people under alerts due to hazardous air, has reached as far as Norway, according to scientists.
Over the last few days, plumes of smoke have stretched from Canada across Greenland, Iceland and made their way to Norway, CNN quoted the scientists at the Climate and Environmental Research Institute in Norway (NILU) as saying on Friday.
They have been able to detect the increase in smoke using very sensitive instruments and then confirm its origin using forecast modeling.
People in Norway may be able to smell and even notice the smoke as a light haze but, unlike parts of the US that have seen hazardous pollution, they should experience no health impacts, Nikolaos Evangeliou, a senior scientist at NILU, told CNN.
"The fires traveling from such long distances arrive very diluted," he added.
Over the coming days, the plume is expected to spread across swaths of Europe but it's unlikely people will be able to smell or notice the smoke, Evangeliou noted.
It is however, not unusual for wildfire smoke to travel long distances, the scientist told CNN, adding that "smoke from wildfires such as those in Canada is injected at high altitudes thus staying in the atmosphere longer and able to travel over far distances".
In 2020, smoke from California's record-breaking wildfires was detected in Svalbard, a Norwegian archipelago located deep inside the Arctic Circle.
Meanwhile, Canadian authorities on Friday reported 10 new wildfires, which brought the total number to 2,405.
In its latest update, the Canadian Interagency Forest Fire Centre said there were 422 active wildfires on Friday, down from 431 on Thursday.
The number of out-of-control wildfires fell to 219 on Friday from Thursday's 234, Xinhua news agency reported, citing the update.
On Friday, there were 89 wildfires being held and 114 under control.
Wildfires have so far devoured about 45,000 square km of land in Canada, making 2023 one of the worst years for wildfires on record, according to the centre.
In Alberta, unsettled weather brought new starts.
Hot and dry windy weather was across the north, and extreme fire weather is expected.
In Ontario, two larger fires in the far north were receiving some limited suppression action and ignition.
More lightning fires from existing and new lightning are expected, the centre said.
IANS