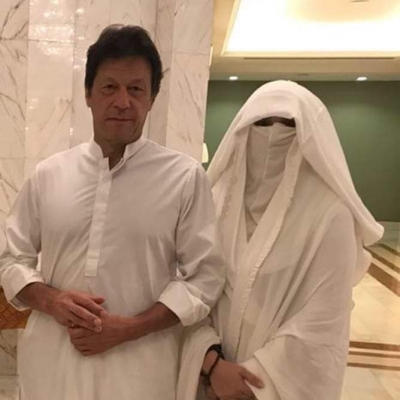 Islamabad: The former husband of Bushra Bibi, the third and incumbent wife of Pakistan Tehreek-e-Insaf (PTI) chief Imran Khan, has alleged that the latter forcefully ended his 28-year-long marriage.
In a TV interview, Khawar Farid Maneka has leveled serious allegations against Imran Khan, accusing him for manipulating the divorce process to expedite his marriage to Bushra Bibi.
Bushra Bibi, who had been married to Maneka for 28-years and had at least five children, became a "peer" or spiritual healer after becoming part of the Maneka family, well-known for having a religious and spiritual background.
Bushra, aka Pinki Peerni, later was connected to Imran Khan through her sister in Dubai with an intent to heal the former Prime Minister from the depression and trauma he was facing after his divorce with Reham Khan.
Later, the connection between Pinki and Khan led to her separation and divorce with Maneka and marriage to the latter.
"Imran Khan ruined my 28-years-long marriage with Bushra. We were happily married. Imran Khan would come to my house in my absence and sit there for hours with Bushra. They would talk for hours on mobile during the night. All of this was happening without my permission. And whenever I questioned Bushra, she would say that it is a matter related to spiritual healing," said Khawar Maneka.
"One time, I called my servant and asked him of why Bushra's phone is not being received. He told me that Imran Khan is here. So I told him to go in the room while I stayed on the call. I scolded Bushra and Imran Khan and told khan to leave my house. I told my servant to make sure he leaves immediately," he added.
Khawar Farid Maneka also revealed that Bushra had left his house at least six months prior to their divorce, relocating to her residence in Pakpattan city in Punjab.
Till that time, it was a separation and was not a divorce and Maneka had tried to reconcile with Bushra asking her to return home.
"My mother asked me to bring Bushra back home because she had serious doubts over Imran Khan's character," he said.
Talking about his alleged forced divorce, Khawar Farid Maneka said that Bushra's friend Farhat Shahzadi aka Farah Gogi, called him and told him that Bushra is not going to come back home, stressing that he should divorce her.
"After Farah Gogi's call, I went to Bushra and asked her of what is going on. She did not respond to my questions and kept her head down. Farah and some other people to divorce Bushra again called me. On November 14, 2017, I got frustrated and gave a written divorce, sent it to Gogi and told her to give it to Bushra."
Adding more to the startling revelations, Khawar Farid Maneka said that Bushra sent him a text message through Gogi to change the divorce date to facilitate Imran Khan's Nikkah (marriage) ceremony on January 1, 2018.
"I was furious and shocked to see her audacity to contact me and ask me to change the divorce date."
According to Islam, a woman cannot get remarried after her divorce for at least three months.
In the case of Bushra Bibi, as Khawar Farid Maneka divorced her on November 14, 2017, she could not get remarried to Imran Khan on January 14, 2018.
The case of Imran Khan's marriage with Bushra has also been raised in the courts as the cleric, who solemnised the Nikkah ceremony has stated that it was not as per Islamic Shariah, which was why the former Prime Minister had contacted him during February 2018, requesting him to conduct the ceremony again.
Political analysts who were aware of the developments said that they were informed that an alleged "spiritual revelation" to Bushra Bibi had directed her to marry Imran Khan and that he would become the country's Prime Minister.
"I have serious doubts about what Khawar Menaka claims. I am more certain that he was well-aware of what was going on between Bushra Bibi and Imran Khan under the umbrella of spiritual healing process," said senior journalist Javed Chaudhry.
"Very reliable sources told me back then that Bushra Bibi had proposed Imran Khan to marry her daughter. Imran Khan refused because there was a huge age difference. Later, Bushra Bibi offered him to marry her, adding that if he does so, he would become Pakistan's Prime Minister," he added.
But what Khawar Farid Maneka claims it that he was threatened by Imran Khan's close aids in Zulfi Bukhari and Gogi to stay silent and prevented him from speaking against the PTI chief.
"Farah Gogi conveyed to me that Imran was not their devotee and the future Prime Minister," Khawar Farid Maneka said.
While Khawar Farid Maneka's revelation have come as a major shock, many believe that such statements are being given at a time when legal cases of severe corruption in the Punjab province by him, Farah and then Chief Minister (CM) Usman Buzdar are being investigated in the courts.
IANS