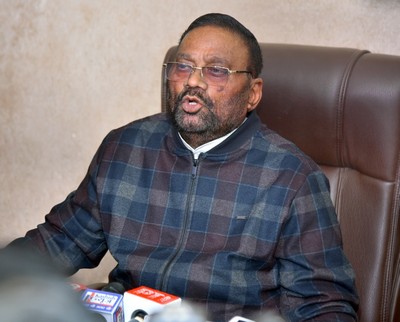 Lucknow : Samajwadi Party leader Swami Prasad Maurya addressing press conference at his residence in Lucknow on Tuesday, Jan. 31, 2023. (Photo:IANS)
Lucknow : With a little over a year left for the Lok Sabha elections, Uttar Pradesh is returning to 'Mandal' politics with the focus turning firmly on other backward castes and Dalits.
The BJP, which had planned to make Ram temple – expected to be completed by then – its main poll plank in the 2024 elections, is now being gradually forced to rethink its strategy.
The Samajwadi Party has been using its non-Yadav OBC face Swami Prasad Maurya to connect with backwards and Dalits by raising the issue of the alleged insult to backwards in the Hindu epic Ramcharitmanas and simultaneously flagging the demand for caste census.
Giving impetus to backward politics, Uttar Pradesh's deputy Chief Minister Keshav Prasad Maurya, in an unexpected turn of events, has backed the opposition demand for a caste census, a move that is being viewed by analysts as a ploy to undercut the opposition plan to corner the ruling Bharatiya Janata Party (BJP) on the issue.
"I am all for it," Maurya said, adding, "neither me, nor my party are in opposition on the subject."
However, he had no answer as to why Uttar Pradesh has not yet followed the Bihar example, where a caste census has been announced.
The demand for a caste census – or scientific count of castes last undertaken in 1931 (a caste count was also done in 2011 but its data was not shared) – is based on the premise that it would help the government rework social justice rollout.
Asked about the move by Bihar's OBC parties – Janata Dal(U) and Rashtriya Janata Dal – to go for caste census, Keshav Prasad Maurya said, "Caste census taken up by any state government is the prerogative of that government. How can I say if they are acting against the Constitution?"
In its first term, the Yogi government had undertaken a 'samajik nyay (social justice)' survey though the report that outlined more representation for less represented Dalit and OBC groups, but the same has not been implemented yet.
The SP, which is playing a proactive role on the issue, said, "By supporting the caste census demand, the BJP's deputy CM Keshav Prasad has now raised questions about his own party's governments at the Centre and in UP. Now, will Yogi say when, like Bihar, caste census would be ordered in UP?"
The sudden focus on OBCs and Dalits and the controversy over Ramcharitmanas has apparently taken the BJP aback.
"We were confident of the Ram temple issue dominating the Lok Sabha polls, but vested interests are pulling the state back to the Mandal issue. However, we feel that it will peter out in a few months though we are also preparing to counter it," said a BJP functionary.
–IANS