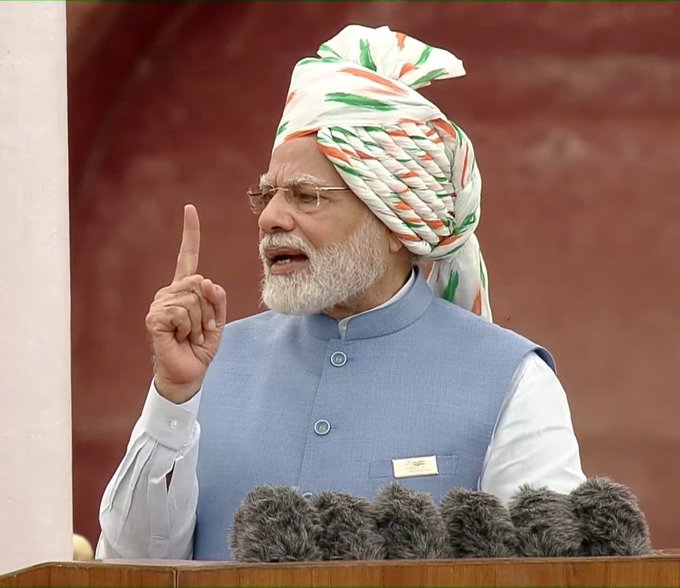 PM Modi addresses nation at Red Fort, Delhi Image Credits: All India Radio Twitter
Prime Minister Narendra Modi, addressing the nation from the historic Red Fort as India celebrates 75 years of Independence, has not made any announcement of a scheme but has certainly given a catch line for the media i.e five pledges (panchpran).
Themed as '75th Azadi ka Amrit Mahotsav', the Prime Minister set out a plan for the next 25 years for which he listed five pledges (panchpran) that the citizens must take to "fulfill freedom fighters' dreams for India by 2047". He said: "I urge youth to dedicate the next 25 years of their lives for the nation's development; we will work towards the development of the entire humanity.
While the PM in his 83 minutes speech touched upon several key issues including gender equality, environment and India's aspirations, critics could take on him for putting freedom fighters in two categories – before and after Independence. Modi paid tributes to Mahatma Gandhi, Netaji Subhas Chandra Bose, Babasaheb Ambedkar and Veer Savarkar but ignored Jawaharlal Nehru. Omission of Nehru and addition of Veer Savarkar in the line of Gandhiji and Bose will certainly evoke criticism.
Swedeshi pitch, self-reliance and pride over the past are the three key components of his message to the people wherein he referred to ancient scriptures while pointing out mainstreaming of the people from smaller towns and cities in different spheres of life.
The PM's emphasis on the environment was, indeed, noteworthy. His stress on saving water and cleanliness would certainly make positive change if the existing plans and policies are implemented on the grounds. He said: "It is the duty of people to save electricity, water. If we follow this, we can reach desired results ahead of time."
Modi has shown sensitivity towards women in his speech. He underlined that disrespectful comments against women in public and private life are common.  Emphasizing on the dignity of women, PM Modi said, "It is important that in speech and conduct, we do nothing that lowers the dignity of women."
Poll Pitch for 2024?
At the end of his speech, the PM tried to have set the narrative for the 2024 general elections wherein he meticulously underlined corruption and nepotism as two major problems in the way of India's progress. He also pointed out that there are sympathizers for the corrupt leaders in our society.  He said: "Our many institutions are affected by family rule, it harms our talent, nation's capabilities and gives rise to corruption."
On the issue of corruption, he tried to outdo the allegations made against his government for protecting defaulters. Notably, opposition parties, mainly Congress, have often underlined that the cases of "willful defaulters, bad loans and write-offs" have been on the rise.  Modi asserted that the corrupt will not be spared, underscoring that defaulters of the previous regime would not be spared. He said: "It is our effort that those who have looted the country will have to pay back." He added: "In India, where people are fighting poverty, we need to fight against corruption with all our might."