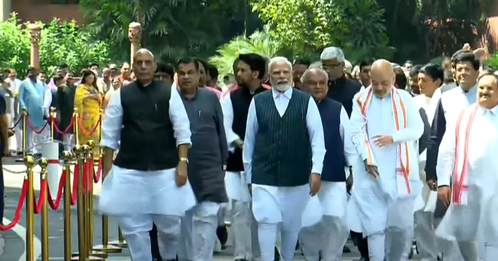 New Delhi: Prime Minister Narendra Modi on Tuesday suggested that the old Parliament building should be known as "Samvidhan Sadan" on a day when functioning of all legislative work shifted to the new Parliament building.
Addressing a function in Central Hall to commemorate the 75 years of Parliament, Modi said, "I have a suggestion. Now, when we are going to the new Parliament, the dignity of the old building should never go down. This should not be left just as the old Parliament building. So, I urge that if you agree, this should be known as 'Samvidhan Sadan'."
In his 40 minutes address, the Prime Minister said, "It was here in 1947 that the British did the transfer of power, our Central Hall is a witness of that historic moment".
Recounting several significant legislations which were passed in the old Parliament building, Prime Minister Modi said that due to the Shah Bano case, there were delays and finally our Muslim mothers and sisters, after a long wait, got justice because of this Parliament, when law opposing 'triple talaq' was unitedly passed from here.
"In the last few years, Parliament has also passed laws giving justice to the transgenders. We have unitedly passed laws that will guarantee a bright future for the specially-abled people. It is our privilege that we got the opportunity to abrogate Article 370 from the Parliament," he said.
"So far, Lok Sabha and Rajya Sabha have passed over 4,000 laws. When required, joint sessions were held to chalk out strategies to pass bills. It was this Parliament that let us rectify our mistakes and we passed the law against triple talaq," Modi said.
Addressing the function, which saw presence of members of both Houses of Parliament as well as Vice-President Jagdeep Dhankhar, Speaker Om Birla, Leader of Congress in Lok Sabha Adhir Ranjan Chowdhury, Leader of
Opposition in Rajya Sabha Mallikarjun Kharge and Leader of Rajya Sabha Piyush Goyal, the Prime Minister said, "Today, we are going to do 'Shree Ganesha' of new future as we move to the new Parliament building. Today we are moving to the new Parliament building with a repetition of our resolve of developed India and determination towards achieving it."
"The Parliament formed laws ensuring justice to transgenders. With this, we moved towards providing them employment, education, healthcare with dignity," he added.
"Every law made in Parliament, every discussion held in Parliament, and every signal given by Parliament should encourage the Indian aspiration. This is our responsibility and the expectation of each and every Indian. Whatever reforms are made here, Indian aspiration should be our priority. Can anyone ever make a big picture on a small canvas? Just as we cannot make a big picture on a small canvas, in the same way, if we cannot enlarge the canvas of our thinking, we will not be able to paint a picture of a grand India," he emphasised.
"I had said from Red Fort – Yahi samay hai, sahi samay hai. If we look at the events one after the other, each one of them bears witness that today, India has reawakened with a new consciousness. India is filled with a new energy. This consciousness and energy can change the dreams of crores of people into resolutions and make those resolutions into a reality," he added.
Modi further said that in the 25 years of "Amrit Kaal", India will have to work on a larger canvas.
"The time for us to get caught up in smaller issues is over. First of all, we will have to meet the goal of becoming Atmanirbhar Bharat. It is the need of the hour, it is everyone's duty. Parties do not come in its way. Sirf Dil chahiye, desh ke liye chahiye," he saidNew Delh: Prime Minister Narendra Modi on Tuesday walked to the new Parliament building along with his cabinet colleagues, soon after the culmination of a special function in the Central Hall of old Parliament building.
PM Modi along with Home Minister Amit Shah, road transport Minister Nitin Gadkari and other cabinet colleagues walked from Central Hall to the new Parliament building amid slogan shouting by BJP MPs chanting 'Bharat Mata Ki Jai'.
The Lok Sabha met in the new Parliament building at 1:15 p.m. and the Rajya Sabha meets at 2:15 p.m.
A special five-day session of Parliament began on Monday with a discussion on the Parliament's journey of 75 years.
Eight bills are listed for this current ongoing session.IANS