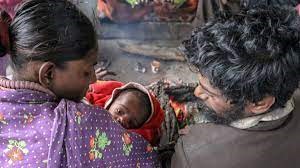 A couple with their kid braving biting cold in capital (File photo).
Delhi recorded severe cold wave for a second day on the trot on Friday
Numerous visuals show people lighting up bonfires to seek respite from cold
250 temporary tents are set up in different areas of Delhi
The national capital continues to reel under the biting cold wave for a couple of days with Friday's at Ayanagar in southwest Delhi plunging to a numbing 1.8 degrees Celsius, according to the India Meteorological Department (IMD) data. Furthermore, Delhi's Air Quality Index (AQI) remained in the "very poor" category on Friday.
Weather experts describe that the Indo-Gangetic plains witnessed a much-intense cold wave in the last week of December as dense fog blocked the sun, causing low daytime temperatures in parts of Delhi-NCR. As per an alert from the IMD, the cold wave condition is likely to persist in the national capital for two-three days more.
Numerous visuals from different parts of Delhi also showed people lighting up bonfires to seek respite from the rampant cold wave conditions.
The city on January 26, 2021, recorded a minimum of 2.1°C at Safdarjung. A low of 1.1°C was recorded on January 1 of that year, the lowest minimum for Safdarjung in the last decade.
As per norm, a cold wave is declared in the region when the minimum temperature is 4.5°C or more below the normal mark, or when it drops to 4°C or lower.
Rush at night shelters
The Delhi Urban Shelter Improvement Board member Vipin Rai said that nearly 200 shelter homes have been built across Delhi, keeping in view the biting cold wave.  Homeless people flocked to shelters in their areas to protect themselves from the ongoing bone-chilling winter conditions in the national capital. "250 temporary tents are set up in different areas of Delhi, in which beds, blankets, etc. are arranged for people to stay. Kashmere Gate, AIIMS, Yamuna Pusta, Bangla Sahib etc. are the areas where tents have been set up," he said.
Delhi Urban Shelter Improvement Board (DUSIB) says that they have arrangements for up to 22,000 people to stay, for whom mattresses, blankets and two-time meals are being given to them. According to the information, this department of the Delhi government is working by dividing the entire Delhi into 15 zones. A helpline number has also started through which people can call and reach the shelter home, according to ANI.
Rai said that 4 tents have been set up on the main road in Sarai Kale Khan. "There is a complete arrangement of mattresses and blankets for those who live on the streets or do not have any place to stay, they can come and stay in the shelter home. Apart from this, a tent with 100 beds has been installed near Nizamuddin railway station," he added.
-INDIA NEWS STREAM