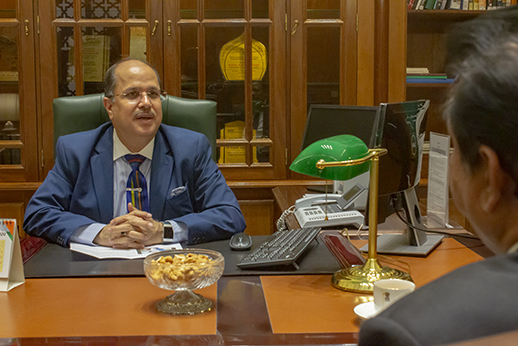 Ghazanfar Ali Khan
June 17, 2021
Riyadh: An estimated 225,000 Indians may have lost their jobs in Saudi Arabia during the last one year of the Covid 19 pandemic, forcing them to return home on final exit.
A total of 550,000 Indians have have come back from Saudi Arabia since May last year as part of the Vande Bharat Mission initiative of the Indian government.
This was disclosed by Dr. Ausaf Sayeed, Indian ambassador to Saudi Arabia, here on Thursday while talking to India News Stream. Dr. Sayeed said: "We do not have data on the job losses of Indians during this period. Around 5,50,000 Indians have left the Kingdom through special repatriation flights since May 2020. We can assume that around half of this number may have left on the final exit. This includes both workers and dependents who may have returned to India."
Among the reasons the Indian workers had to return home were job loss, family compulsion, and death in family due to COVID -19 pandemic that has impacted the entire world since last year. A large number of flights have been operated from the Kingdom to various destinations in India so far under the Vande Bharat Mission. More than 550,000 Indian nationals, prioritized based on exigencies, such as distressed workers, urgent medical cases, pregnant women, Umrah pilgrims, and stranded visitors, have been repatriated in these flights.
Moreover, massive drops in working hours due to the COVID-19 crises have had a devastating effect on jobs and incomes in different countries, including the Kingdom. The "Asia–Pacific Employment and Social Outlook 2020" estimates that the economic backlash of the COVID-19 pandemic wiped out some 81 million jobs in 2020. The impact of the crisis has been far-reaching, with underemployment surging as millions of workers were asked to work reduced hours or no hours at all.
Referring to the repatriation of Indian workers, which is still continuing despite the ban on flights from India imposed by Saudi Arabia, Ambassador Dr. Sayeed said that the number of Indian workers in the Kingdom had gone down because of the pandemic. "Between 2.1-2.2 million Indians may be estimated to be in Saudi Arabia now," said the diplomat, while emphasizing that "the size of the Indian community was estimated to be around 2.6 million during pre-pandemic days."
But still, the 2.2 million-strong Indian community is the largest expatriate community in Saudi Arabia. It is highly respected due to its sense of discipline, law-abiding, and peace-loving nature. The contribution made by the Indian workers to the development of Saudi Arabia is well acknowledged. Saudi authorities announced an amnesty period between April-November, 2017 during which around 70,000 Indians, including many Indian workers with no legal documents, were issued travel passes to return to India.
Commenting on the progressively growing relationship between India and Saudi Arabia, Ambassador Dr. Sayeed said that "the relationship with Saudi Arabia currently is one of the most important partnerships of India in its extended neighborhood, which was elevated to a strategic partnership during Prime Minister Mr. Narendra Modi's visit in 2019." "Bilateral relationships across all areas, including trade and investment, defense, and culture, are at an all-time high," he added.
He pointed out that 'the senior officer meetings as part of the Indo-Saudi Strategic Partnership Council have been held as per schedule in the virtual format, and the two leaders have been in regular touch via telephone." "This year, along with marking the 75th anniversary of India's independence, we will also be marking the 75th anniversary of the establishment of India-Saudi bilateral relations," he noted.
The diplomat said that the Hajj pilgrimage is another essential component of bilateral relations. The Hajj Quota was increased by 24,975 in 2019, enabling 2,00,000 Indians to perform Hajj in August 2019. India's Minority Affairs Minister Mr. Mukhtar Abbas Naqvi and Hajj and Umrah Minister of Saudi Arabia Mr. Mohammed S. bin Taser Benten signed the annual bilateral Hajj 2020 agreement in December 2019, making India the first country in the world to make the entire Hajj process digital.
But this year, Saudi Arabia has put a strict limit on the number of Hajj pilgrims, allowing only 60,000 Saudi citizens and expatriates living and working in the country to perform the pilgrimage. The Saudi government has decided not to allow foreign pilgrims, including Indians, to travel to the Kingdom for Hajj this year amid concerns about the spread of the coronavirus.
The first phase of online registrations for Hajj for locals opened today (June 13). In a report published here in local press, Dr. Abdel Fattah bin Suleiman Mashat, Deputy Minister of Hajj and Umrah, said that "the decision to cancel Hajj for overseas pilgrims was taken due to the ongoing pandemic and the emergence of new mutations". He called on the Saudi government agencies and officials to ensure that Hajj does not become a source of global transmission of the virus and its variants.
–INDIA NEWS STREAM