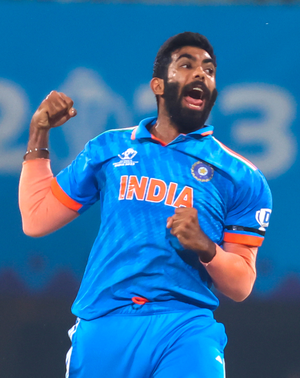 New Delhi: Former Australia cricketer Aaron Finch believes Jasprit Bumrah's ability to swing the ball in to the left-hander is like a ' poetry'.
Bumrah's comeback in international cricket after a prolonged injury for nearly one year has been remarkable. He holds an exceptional record of bowling most dot balls (303) in the ongoing ICC ODI World Cup 2023, so far he has taken 17 wickets too.
Bumrah returned to lead the Indian side for their tour of Ireland before playing a pivotal role in India winning their record-extending eighth Asia Cup title.
Speaking to Star Sports, Finch spoke on Bumrah's ability to swing the ball in to the left-hander, and said "Yeah, of all the quick out there, and Bumrah in particular, his ability to swing it back into the left-hander is so crucial because then you can't just worry about the ball going across and you might get a little bit of width now and then."
"You've to be on guard for the ball that swings back, particularly for two left-handers, Conway and Rachin in the top order. Bumrah is beautiful to watch. It doesn't look like poetry when he's running up to the crease, but once he releases the ball, the seam position and angle to swing it back down the line against the left-hander is just poetry; it's unbelievable."
However, Finch also believes on how Daryl Mitchell will look to stay at the crease, and advised Indian team to get rid of him early in the inning.
"Yeah, you've to get him early. That's what India has been good at throughout this tournament, getting powerplay wickets and exposing middle orders against the brand new ball still. If Mitchell is able to bat till the 20th over, then he is able to play on his terms," Finch concluded. – IANS