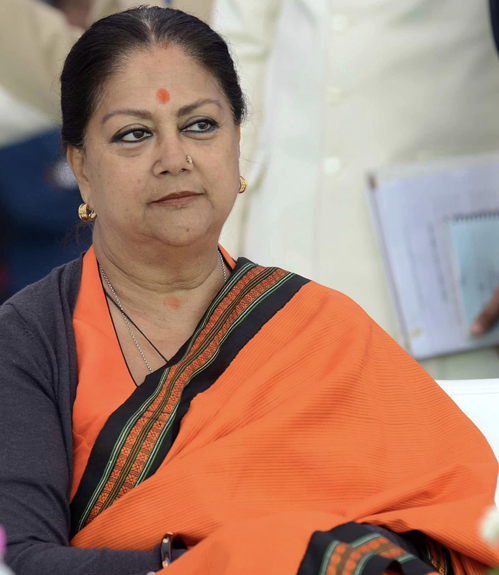 Jaipur: Ahead of Prime Minister Narendra Modi's visit, former chief minister Vasundhara Raje – who had distanced herself from BJP's Parivartan Yatra after its inauguration – suddenly got into active mode and met union minister Gajendra Singh Dhejhawat and also attended the party's core committee meeting.
On Saturday, Raje organised a Raksha Sutra programme at her residence which was attended by a large number of women.
Raje also remained active throughout Sunday. In the morning, she participated in the Matrishakti Samagam programme organised by Dharma Raksha Samiti at Ramlila Maidan.
In the evening, Union Minister Gajendra Singh Shekhawat met Raje at her residence. At night, she participated in the core committee meeting held at the BJP office.
Initially Raje was seen at the launch of BJP's Parivartan Yatras which started from September 2. After that Raje remained missing from the entire rally.
BJP's four Parivartan Yatras lasted for about 18 to 19 days in the state, however, Raje did not participate in any. But now suddenly two days prior to Prime Minister Modi's rally, Raje seems to have woken up from her slumber.
Addressing the Raksha Sutra programme, Raje told women that because of their unwavering strength, they will not be allowed to go anywhere from Rajasthan. "I will serve you, stay with you. I will leave no stone unturned in raising your voice with you. Your strength, your support, remains a blessing. It is so strong that no matter how hard one tries, it will not break," she stated.
On Sunday, Raje addressed the Matrishakti Samagam programme organised by Dharma Raksha Samiti at Ramlila Maidan.
She said that today women are being humiliated everywhere. About 1,400 rape cases are pending. The situation is so bad that women power will now have to lead from the front. Because without struggle women cannot bring change in the society.
Meanwhile, the meeting of arch rivals Shekhawat and Vasundhara Raje at her official residence on Sunday evening has become a topic of discussion in political circles. Raje has also given a call to people to gather through social media regarding PM Modi's meeting to be held today.
Come together, bring change! Prime Minister Narendra Modi is coming to Jaipur, Rajasthan on 25 September. Here he will address the Parivartan Sankalp General Assembly and guide the workers. Rajasthan family welcomes you heartily, she said on her Twitter handle.
IANS