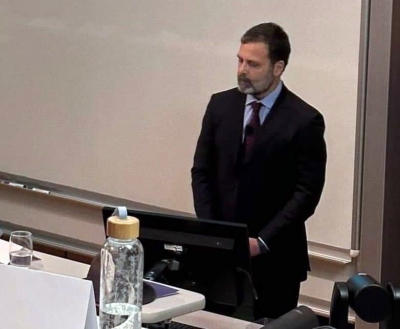 Rahul Gandhi (File photo).
Congress leader Rahul Gandhi Sunday sent a four-page preliminary reply to the Delhi Police's notice about his 'sexual harassment' remark made during the Bharat Jodo Yatra while questioning the process adopted by the authorities and a sudden urgency after a 45-day delay, according to PTI.
The Congress leader gave the 10-point reply hours after a Delhi Police team knocked on his doors for the third time in five days. The Congress leader also sought eight to 10 days to give a detailed response to the questions posed by Delhi police over his January 30 remarks.
The Congress stated that the "cheap theatrics" by the police proved "how rattled Mr Modi is with our questions on Adani."
"This harassment deepens our conviction to seek answers," the party said in a statement. The police left Rahul's house, stating that they couldn't question him today, and will record his statement later.
Gandhi termed the police action "unprecedented" and asked whether this had anything to do with his position taken both inside and outside Parliament on the Adani issue.
He further asked whether any other political party, including the ruling party, has been subjected to such kind of scrutiny or questioning over their political campaigns.
Police said that the Gandhi scion in Srinagar had said: "I have heard that women are still being sexually assaulted", and since the Yatra had passed through Delhi also, they wanted to ascertain if any victim had approached the Congress leader here so that they can initiate a probe into the matter. "The police had asked him to give details of these victims so that security could be provided to them, a police officer reportedly told PTI.
Congress has condemned the Delhi Police action and attacked the Central government, calling it the "worst case of harassment and political vendetta", but the BJP rejected the charge and said the police was "only discharging its lawful duty".
Some Congress supporters have been detained by the police as they protested against the action. Meanwhile, Rajasthan CM Ashok Gehlot, who reached Rahul's residence along with senior party leaders Shaktisinh Gohil and Abhishek Manu Singhvi, said the police action reminded him of "the time of Indira Gandhi".
-INDIA NEWS STREAM