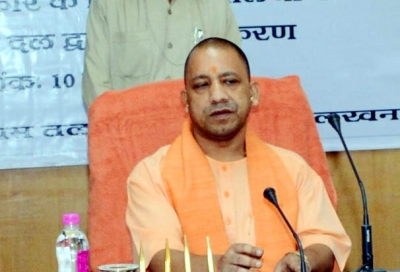 Yogi government to focus on Waqf properties, opposition calls it 'divisive'
The Uttar Pradesh government has ordered a survey of properties managed by Sunni and Shia Central Waqf Boards in the state to check for any anomalies in ownership of the properties or how they were acquired, as per media report. On Tuesday, the government repealed a 1989 government directive mandating automatic Waqf registration of high or mounded land, barren land, and Usar land, India Today reported. Meanwhile, the opposition slammed the government move saying it was divisive.  Early this month, the UP government started the survey of unrecognized madrassas allegedly aiming to crack down on them.
The order
The UP government has directed all the district magistrates and commissioners to re-examine the documents of all the properties which have been registered under Waqf since April 7, 1989
The officials have been asked to record the status of such across the state. The properties including cemeteries, mosques, and Idgah land will be demarcated fresh. According to India Today, the government asserted that under a 1989 ordinance, certain cultivable land was automatically registered as Waqf property. It had come to light in the 1989 order that numerous properties were registered with the Waqf board without any application, as per officials. On the other hand, no Waqf property can be automatically registered under the Muslim Waqf Act, 1960, they said.
Opposition reaction
Opposition political parties slammed the move alleging that the government's approach is discriminatory. All India Majlis-e-Ittehadul Muslimeen (AIMIM) chief Asaduddin Owaisi said that the Yogi Adityanath government is discriminatory. "Why are you (Uttar Pradesh government) surveying Waqf properties only? Do it for Hindu Endowments Board properties too. I was saying there's a conspiracy behind the madrasas' survey. It's coming to the fore. UP govt is violating Article 300 (Right to property)," Owaisi said while addressing a press conference in Hyderabad on Wednesday, news agency ANI reported. On the other hand, the Samajwadi Party chief Akhilesh Yadav chastised the Yogi Adityanath-led BJP administration in Uttar Pradesh for surveying Waqf assets. "We are against the survey of Waqf properties by the state government. It should not be done. This government has to entangle people only in Hindu-Muslim issues. People, who survey madrasas will make India a 1 trillion dollar economy?" Yadav said.
BJP defends move
The BJP said there is no reason to call it discriminatory or divisive. Reacting to Akhilesh Yadav remark, UP Deputy Chief Minister Keshav Prasad Maurya described his opposition to the survey as "appeasement politics." He said: "Akhilesh Yadav has strayed from the issues. He only has the support of the mafia, miscreants, and rioters. The Muslim community did not get the Waqf properties. Such properties only went to the mafia."
-IANS