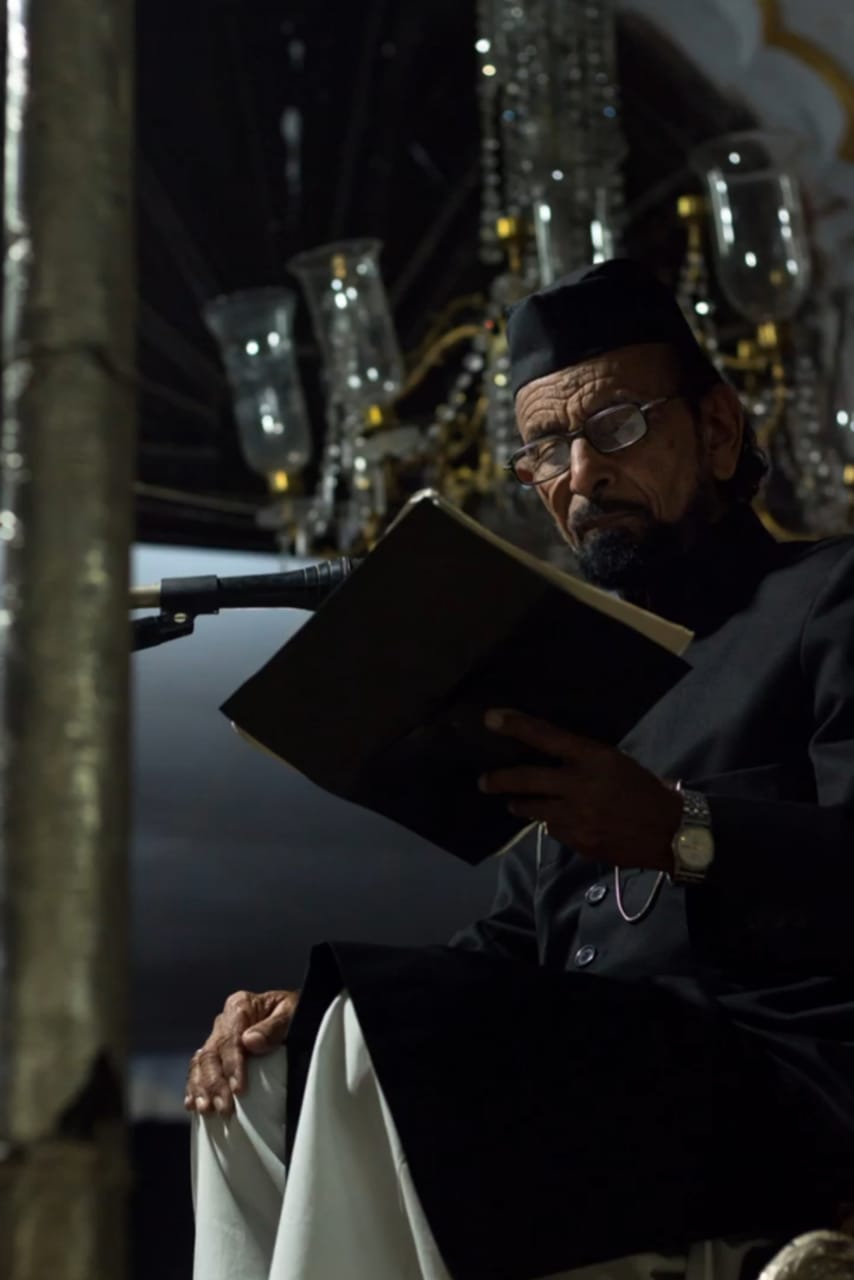 Famous Marsiyakhwan of Lucknow, Late Haider Nawab Jafri reciting Marsiya at Chota Imambada, Lucknow Image credits: Auon Hasan
India is not only a melting pot but a salad brawl, which manifests equally in grief and sorrow. The Muharram is the one that is being observed with religious-cultural ethos. Many traditions and customs that enriched India today have come from Persia during the Mughal era – some also before it – giving birth to the observations such as Taziyadari and Marsiyakhwani, making the country a synthesis of culture.
Marsiyakhwani, the meaning, and the background
The term Marsiya is a derivative of the Arabic 'Risa', which means praising the dead in a funeral oration, weeping and wailing over the deceased. Marsiya, generally speaking, is an elegy recited to express sorrow on the death of a person. But it has been symbolized by the commemoration of the martyrdom of Prophet Muhammad's (PBUH) grandson, Imam Hussain. The form of Urdu Marsiya is only related to this only as it has been observed in the Indian subcontinent but now it is recited across the world. Imam Hussain and His family including his 6-month-old son were martyred in the month of Muharram, Marsiya used to be mainly recited by Shia Muslims only. Other sects of the Muslim community and even Hindu poets also adopted this form of Marsiya in their poetry.
Marsiya evolved in two different techniques; one is Tahtul Lafz means in spoken form without the use of musical notes like Sa Re Ga Ma. The legendary Marsiyakhwan who made this art famous, Mir Anees recited Tahtul Lafz Marsiya in which he used his hands to express the particular event. Another form started gaining popularity in Majalis (mourning ceremonies) which were recited by the people with good soulful voices i.e. Sozkhwani.
Marsiya was a Persian literary tradition, it molded with its uniqueness in India when many Persian poets and scholars came here. Marsiya first developed in the Deccan as a form of folk poetry. As an audience-oriented literary tradition it changed following the social environment and patronage patterns, and in this process absorbed many traits of oral epic rendition. The theatrical arts of Indian and Persian origin also influenced it considerably, and thus Marsiya represented the synthesis of multiple cultural traditions. It assimilated the traits of both classical canonized forms and folk musical varieties and developed from Khwanandagi (chanting) into a most sophisticated musical style – the Sozkhwani.
Marsiya as a well-defined literary form existed in Arabic literature in pre-Islamic days (Daur-i Jahili) and many poets such as Muhalhil Taghlabi (c. 531 AD) and Khamsa shaira (44 A.H.) contributed to the 'Risa' poetry. However, this tradition is much older in Iran and may be traced to the literary and musical conventions of pre-Islamic ancient Persia. Sog-i Siyawash (mourning of Siyawash, Cyrus, the father of Kai Khusrau) and Marg-i Zarir (the death of Zarir, brother of Gushtasp) figure most in the tales (asatir) of bygone days. Some stories (dastan) and poetic verses are still extant in Pahlavi, reminiscent of the legacy of the ancient Persians. Sog-i Siyawashan is a famous melody (ahang) of a sombre nature that prompts us to cry.
Marsiya in Urdu was first written in the 16th century in South India, in the kingdoms of Golconda and Bijapur which were Shiite kingdoms. This form found an especially congenial soil in Lucknow, an important Shia Muslim community in the Indian subcontinent, where it was regarded as an act of piety and religious duty to eulogize and bemoan the martyrs of the battle of Karbala. The genre was championed by Mir Babar Ali Anees.
Talking to India News Stream about this art, famous Marsiyakhwan of Lucknow and Urdu litterateur Qazi Asad said, "The Art of Tahtul Lafz Marsiya Khwani is the recitation of Urdu Epics & Elegies based on the Tragedy of Imam Hussain in Karbala in a Declaratory form with the obvious usage of voice, eyes, hands, etc. to let the audience understand and feel different emotions of every Stanza of the Elegy which is mostly comprised of six verses."
Fundamentals of Marsiyakhwani
Marsiya generally consists of six-line units, with a rhyming quatrain, and a couplet on a different rhyme.
It is characterized by six-line verses in an AA, AA, and BB rhyme scheme. They are traditionally either recited by Marsiya-Khwans or sung by a Sozkhwan.
Historian Rana Safvi writes in her blog, "A classical Urdu Marsiya usually includes most of the following sections: a prelude (Chehrah) of poems of praise, descriptions of the morning or night before the battle, a general introduction to the hardships faced by Hussein; a description of the poem's hero — whether Hussein or one of his companions — and his virtues; the leave-taking or departure for the battlefield (Rukhsat); the entry onto the field (Aamad); a declaration of the hero's martial prowess (Rajaz); the battle (Jang); the martyrdom (Shahadat); and finally, the lament (Bain). To this one could add the topical focus (Maajrah) and the prayer (Dua)."
Famous marsiya writers in Urdu include Mir Babar Ali Anis, Mirza Salamat Ali Dabeer, Ali Haider Tabatabai, Najm Afandi, Josh Malihabadi, and others. Well-known Persian poets of the genre include Muhtasham Kashani, Nawab Ahmad Ali Khan Qayamat, and Samet Borujerdi. In Turkish, Bâkî composed an important Marsiya.
Mir Babar Ali Anes, a renowned Urdu poet, composed salāms, elegies, Nauhas, and quatrains. While the length of the elegy initially had no more than forty or fifty stanzas, he pushed it beyond one hundred fifty or even longer than two hundred stanzas or bands, as each unit of Marsiya in the 'Musaddas'(six liners) format is known. Mir Anees drew upon the vocabulary of Arabic, Persian, Urdu, Hindi, and Awadhi to a great degree. He has become an essential element of Muharram among the Urdu speakers of the Indian subcontinent. The first major and still current critical articulation about Mir Anis was Muazna-e-Anis-o-Dabir (1907) written by Shibli Nomani in which he said "the poetic qualities and merits of Anis are not matched by any other poet".
Another important Marsiya poet was Chhannu Lal Dilgeer who was born during the reign of Nawab Asaf-ud-Daulah. He was initially a ghazal poet with the 'takhallus' (pen name) 'Tarab', before focusing on Marsiya at a later stage. He converted to Islam and changed his name to Ghulam Hussain. His most popular marsiya is 'Ghabrayegi Zainab', which is currently being recited in houses during Ashura i.e. 10th Muharram.
For latest Marsiyakhwani watch here:
https://www.youtube.com/watch?v=zycgt8GxOm8
-INDIA NEWS STREAM