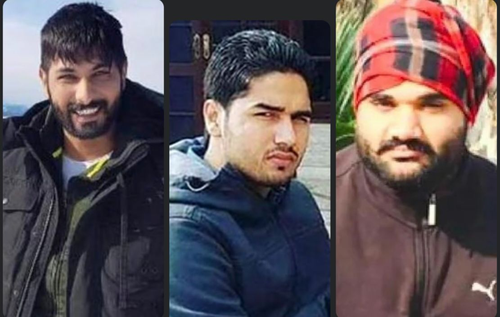 New Delhi: Following the brutal killing of popular Punjabi singer Sidhu Moosewala in May last year, the security agencies, including the Special Cell of Delhi Police, have raised concerns over Canada emerging as a safe heaven for Khalistani terrorists and gangsters involved with various criminal enterprises in India.
Sources said that gangsters residing in Canada exert a significant influence over criminal activities in India.
In a recent public gathering in Ahmedabad, Punjab Chief Minister Bhagwant Mann had hinted at the potential detention of a "big gangster" in Canada, though the revelation remains unverified by the central agencies.
The individual in question is none other than Satinderjit Singh, better known as Goldy Brar, the alleged mastermind behind the murder of popular Punjabi singer Shubhdeep Singh Sidhu, famously known as Sidhu Moosewala, sources said.
This case represents just one aspect of the connection between criminal activities in Punjab and Canada.
Aside from Moosewala's murder, it appears that Punjabi gangsters based out of Canada may have had a hand in the daring RPG attack on Punjab Police's Intelligence headquarters in Mohali in 2022.
Then Punjab Chief Minister Amarinder Singh, during Canadian Prime Minister Justin Trudeau's visit to Amritsar in 2018, had reportedly raised concerns about how Canadian territory was being exploited against India's interests.
However, no substantial action was taken by the Canadian government in response to these concerns.
Several months ago, Punjab Police had identified seven gangsters operating from Canada for an extended period.
The list included Lakhbir Singh alias Landa, Goldy Brar, Charanjit Singh alias Rinku Randhawa, Arshdeep Singh alias Arsh Dala, Ramandeep Singh alias Raman Judge, Gurpinder Singh alias Baba Dalla, and Sukhdul Singh alias Sukha Duneke.
These individuals are believed to be connected to various criminal activities in Punjab.
Furthermore, the National Investigation Agency (NIA) had announced a reward of Rs 10 lakh for information leading to the capture of Khalistan Tiger Force chief Hardeep Singh Nijjar, a Canadian citizen who was gunned down in Surrey, British Columbia, on June 18.
He was previously designated as a terrorist by the Indian government due to his involvement in pro-Khalistan activities.
Gurpatwant Singh Pannu, the leader of the banned Sikh for Justice (SFJ), also resides in Canada and actively promotes a movement against India.
Recently, two men were arrested from Punjab on charges of defacing the walls of five Metro stations in Delhi with pro-Khalistani messages.
The accused identified as Pritpal Singh a.k.a Kaka (30) and his associate Rajvinder alias Kale, who were associated with SFJ, were promised $7,000 for the job by Gurpatwant Singh Pannun.
The walls of the Shivaji Park, Madipur, Paschim Vihar, Udyog Nagar, and Maharaja Surajmal Stadium Metro stations were defaced with the slogans "Delhi Banega Khalistan" and "Khalistan Zindabad". A government school wall in Nangloi had also been defaced.
A video purportedly released by the SFJ showed the vandalised Metro station walls.
In the video, Gurpatwant Singh Pannun could be heard saying: "During the G20 Summit in Delhi on September 10, we will be orchestrating a Khalistan referendum in Canada."
The SFJ members are also suspected by the security agencies to have been supporting gangsters indulging in illegal activities across the country.
"Most of the gangsters after committing heinous crimes go to Canada as they are backed by the SFJ links. From there and with support from SFJ links, they operate the entire nexus, including drugs trade, extortion, and money laundering, among others. Without SFJ support, it is not possible," said a former cop, who did not wish to be named.
Sources said that India has submitted multiple dossiers to Canadian authorities, urgently seeking the deportation of individuals linked to separatist organisations and terror groups.
"Regrettably, these deportation requests have remained unaddressed, and Canada has become a base for at least nine separatist organisations with ties to terror activities," said the source.
Among those taking refuge in Canada are eight individuals known to be involved in acts of terror, alongside an equal number of gangsters who have been alleged to conspire with Pakistan's ISI.
Shockingly, these individuals, including Gurwant Singh Pannun, who had a history of involvement in terrorist activities during back to early 1990s, have had pending deportation requests with Canadian authorities for an extended period.
"Requests for the extradition of individuals like Gurpreet Singh, also implicated in terror cases, and equipped with their Canadian addresses, have not yielded any action," said the source.
"Deportation requests for notorious gangsters, including Arsh Dalla who's wanted in 16 criminal cases, have been submitted with substantial evidence. However, the Canadian government is yet to take any action on these crucial matters," sources said.
Canada boasts the world's second-largest Sikh population after India, and as a result, it has consistently featured in headlines due to the Khalistan separatist movement in Punjab.
By 1980, the Khalistan movement had taken root in Punjab, with direct connections traced back to Canada. The turning point came on June 23, 1985, when Air India flight IC-182 was bombed near Ireland, exposing the far-reaching influence of the anti-Indian separatist movement in Canada.
Since then, Canada has become a significant focal point for anti-Indian activities, particularly orchestrated by Khalistani separatists nurtured by the Pakistan's ISI.
A glaring example of this influence was the launch of the so-called Referendum 2020 by SFJ, which notably held its inaugural conference in Toronto.
(Shekhar Singh can be reached at shekhar.s@ians.in)