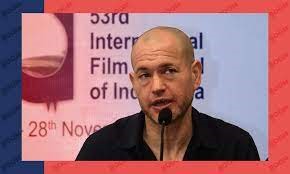 Israeli filmmaker Nadav Lapid (File photo)
Lapid pooh-poohs the narrative that the movie captured dimensions hidden by intellectuals. "It is always the same method – that there is the foreign enemy, and there are traitors from within."
The movie, which was promoted by leaders of the ruling BJP, has been a commercial success, but has also faced allegations of fanning communal sentiments.
Nadav Lapid's selection as the jury head of IFFI53 Goa is a major lapse on behalf of the I&B ministry: Ashok Pandit
Days after Israeli envoy urged filmmaker Nadav Lapid to apologise for his comment on controversial movie "The Kashmir Files", the critically acclaimed director says he stood firm on his statements, saying "someone has to speak up".
Vivek Agnihotri-directed film, about which Lapid called a "propaganda and vulgar", got huge support from Hindu right wing groups and sates rule by the BJP with many, including Haryana, Gujarat, Madhya Pradesh, Goa, Karnataka, Tripura, Uttar Pradesh, and Uttarakhand, declaring the movie tax-free.
Lapid, the head of the international jury at the International Film Festival of India in Goa, said at the festival's closing ceremony that he was "disturbed and shocked" at the screening of the "low grade" film. "It seemed to us like a propagandist movie inappropriate for an artistic, competitive section of such a prestigious film festival," he added.
The Israeli director came down heavily on the narrative being built by the Hindu right wing groups here that the movie captured dimensions hidden by intellectuals. He said: "It is always the same method – that there is the foreign enemy, and there are traitors from within."
Speaking to Israeli news website Ynet over the phone, Lapid said, "It's crazy, what's going on here. It's a government festival and it's the biggest in India. It's a film that the Indian government, even if it didn't actually make it, at least pushed it in an unusual way. It basically justifies the Indian policy in Kashmir, and it has fascist features," he was quoted as saying by the NDTV.  Lapid said that while he was watching the movie, he was shocked by the "transparent combination between propaganda and fascism and vulgarity". "I couldn't help but imagine an Israeli film like this in another year and a half or two," he told Ynet.
The movie, which was promoted by leaders of the ruling BJP, has been a commercial success, but has also faced allegations of fanning communal sentiments. Following Lapid's remarks, a section of social media users and public figures also said he had "called out propaganda".
However, Indian filmmaker Sudipto Sen tweeted a statement stating that everything said by Lapid about the Vivek Agnihotri feature was his "personal opinion"; the tweet was re-tweeted by Union Information and Broadcasting Minister Anurag Thakur, also present at the ceremony when Lapid made the remarks. Film actor Anupam Kher also held the same view.
The noted film maker said he was obviously apprehensive and anticipated the backlash. "It is not an easy position, you are a guest, I am the president of the jury here, you are treated very nicely. And then you come and attack the festival. There was apprehension, and there was discomfort," he said.
"In countries that are increasingly losing the ability to speak your mind or speak the truth, someone needs to speak up. When I saw this movie, I couldn't help but imagine its Israeli equivalent, which doesn't exist but could definitely exist. So I felt I had to," he said.
Several Indian film makers, writers and artists took the courage to back Lapid even though ugly comments against the Israeli director keep tracking the social media platforms.
Ashok Pandit, a Kashmiri film maker based in Maharashtra, strongly criticized Lapid and also took on the Narendra Modi government for inviting Lapid.
A website quoted Panit as saying, "Dear Anurag Thakur Ji, I, as a Kashmiri Pandit who is a victim of genocide, seek serious action against Mr Nadav Lapid, Jury head of IFFI 2022, for calling the depiction of our tragedy as vulgar. He has added salt to our wounds and hence should be made to tender an apology."
He reportedly said, "Nadav Lapid's selection as the jury head of IFFI53 Goa is a major lapse on behalf of the I&B ministry. Hence heads of those in the ministry, who are responsible for this crime, should roll. What does one expect from a Palestine sympathiser?!"