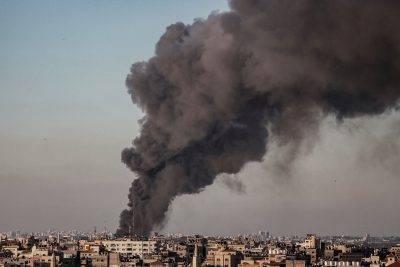 Representational Image
Israel and the Palestinian armed group declared a truce, raising hopes of an end to three days of Israeli bombardment in Gaza that killed as many 44 Palestinians, including 15 children, according various news agencies.
The Egyptian-brokered cease-fire between Israel and Palestinian Islamic Jihad after a weekend of rocket launches, landings, interceptions and deaths in Gaza.
Meanwhile, as it came into effect late on July 7th night, the Israeli military confirmed it was striking Palestinian Islamic Jihad (PIJ) targets in Gaza in response to rockets fired just before, according to Time magazine report.
Meanwhile, the United Nations special rapporteur on the occupied Palestinian territories says Israel's air raids on the besieged Gaza Strip "not only are illegal but irresponsible", calling for a diplomatic solution to the latest bout of violence, which began on Friday when Israel launched air attacks on Gaza City, said a report in the Al Jazeera. "The situation in Gaza is on the verge of a humanitarian crisis," Francesca Albanez told the television news.
He blasted the United States for saying that it believed Israel had the right to defend itself. "Israel cannot claim that it's defending itself in this conflict," Albanez said.
"Local government offices have announced they will reopen their doors for the public, while universities have also announced they will reopen for students. The municipality of Gaza and other municipalities have also announced they will send their equipment to remove the rubble and try to do an initial assessment of the destruction, according to an Al Jazeera report.
The flare-up has been the worst fighting between Israel and Gaza militant groups since Israel and Hamas fought an 11-day war last year.
As per reports, Israel and Hamas have fought four wars since the group overran the territory in 2007. Hamas had a strong incentive to avoid more conflict, which has exacted a staggering toll on the impoverished territory's 2.3 million Palestinian residents. – IANS