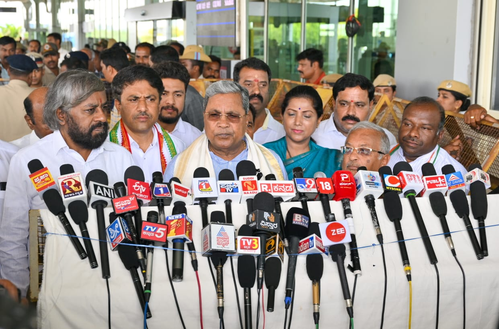 Mysuru: Karnataka Chief Minister Siddaramaiah on Saturday said that the caste census will not divide the society.
"There is a need to ascertain the economic, political and social status of the caste after the 76 years of independence. Ours is a caste-based society. The statistics are important to bring those castes who are politically, socially and economically not equal to the mainstream. Caste census is needed for this purpose," he said while talking to reporters.
He said that social and economic surveys should be done which will not divide the society.
He said that then Chief Minister H.D. Kumaraswamy did not accept the caste report when Kantharaju was the President of the Backward Classes Commission.
"Now, the commission is headed by another person and I have asked him to submit the original census report. He has told me that he would submit the report in November," he said.
He said that Prime Minister Narendra Modi keeps on saying 'sab ka saath, sab ka vikas' but he does not give tickets to Muslims to contest elections.
"There is a difference in making statements while the ground reality is different," he said.
The Chief Minister said that there is a financial dearth for providing guarantee schemes in the state.
"We have sought Rs 4,860 for drought relief. There is crop loss in 42 lakh hectares. The total loss is Rs 30,000 crores. But, as per the National Disaster Relief Fund (NDRF) package, Rs 4,860 crores are sought," he said.
He said that three central teams to assess the drought are visiting 11 districts in the state.
"Based on their report, the central government will give compensation," he said.
He also said lodging sedition cases on media houses by the Central government is not a correct measure.
He refused to answer a question on officers belonging to the Lingayat community being targeted by the Congress government. When asked about senior Congress leader Shamanuru Shivashankarappa's statement in this regard, he stated he is a senior leader and he will talk to him.
IANS