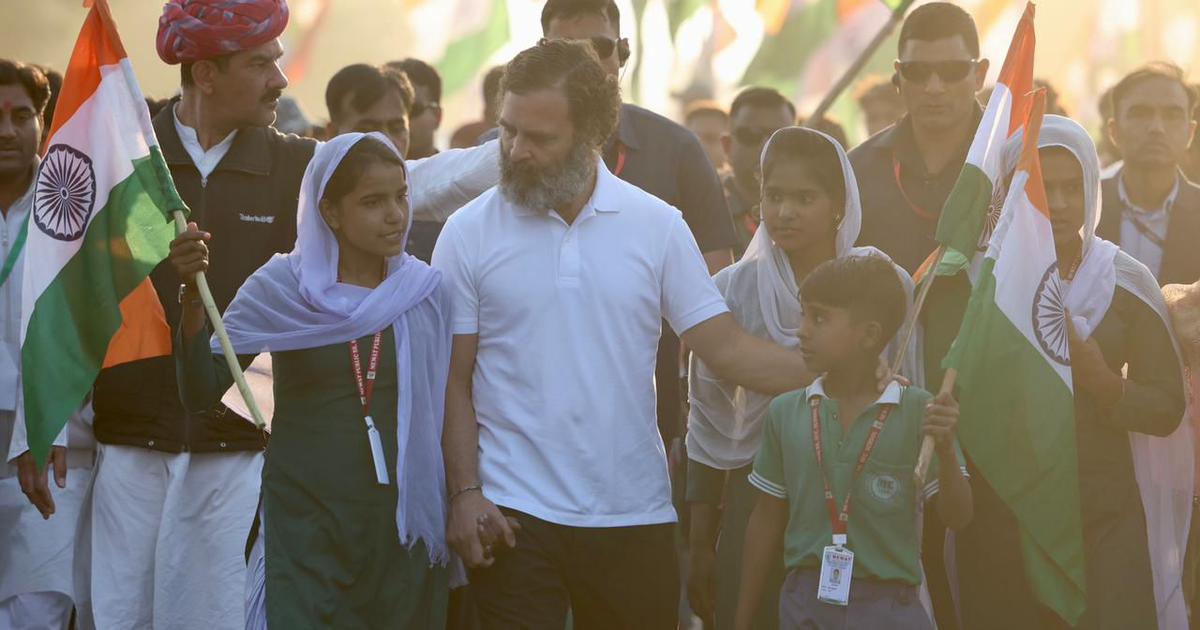 File photo
Congress reacted sharply over the Union Health Ministry letter to Rahul Gandhi for 'postponing' the ongoing Bharat Jodo Yatra in view of the rising cases of coronavirus in China, with the party asking health minister Mansukh Mandaviya whether he is also sending the letter to the rallies being carried out by the BJP?
The Union Health Ministry on Tuesday wrote to Congress MP Rahul Gandhi and Rajasthan Chief Minister Ashok Gehlot regarding Covid norms in the party's Bharat Jodo Yatra in "national interest". Reacting on the letter, Congress leader Pawan Khera on Wednesday said the government can only see Rahul Gandhi's march but not the political rallies taken out by the BJP in Rajasthan and Karnataka, adding "though those rallies are not much of a draw.
"Are you sending the same letter to Rajasthan BJP chief Satish Punia who is taking out Jan Aakrosh Yatra as we speak? Yes, we accept that there will not be any crowd at that rally. But are you taking similar action?"Pawan Khera said.
"The health minister's letter cites another letter written by a BJP MP of Rajasthan. We understand that there is a huge response to Bharat Jodo Yatra and there is a lot of crowds. But are there any Covid rules?," he asked.
The Congress leader also raised question on the discriminatory approach of the government in tackling the infections. He said: "Today you go to any airport and nobody will ask you to wear a mask. Why has the government of India not introduced stringent measures in public transport applicable to each one of us. Why just Rahul Gandhi, Congress and the Bharat Jodo Yatra. Have they postponed Parliament? If physical Parliament, Jan Aakrosh Yatra can take place and wearing of a mask is not mandatory in air travel, why are you picking up on Rahul Gandhi?" Kheral concluded: "Please announce the Covid protocols and we will follow them."
Senior Congress leader and MP Adhir Ranjan Chowdhury said that the ruling party is afraid of the growing popularity of Rahul Gandhi-led Bharat Jodo Yatra. "I want to ask BJP did PM Narendra Modi follow Covid-19 protocols during the Gujarat Assembly Elections 2022. I think Mansukh Mandaviya is not liking Rahul Gandhi's Bharat Jodo Yatra but people are liking it and joining it. Mandaviya has been deputed to divert the public's attention," Chowdhury said.
Another Congress MP, Karti Chidambaram, also made similar remarks saying: "I haven't seen the letter but what are the COVID-19 protocols today? We don't seem to be having any enforceable COVID protocols in any other public gatherings. Why this sudden attention to Bharat Jodo Yatra if not that it is rankling the BJP?"
On the other hand, TMC also came down heavily on the Centre's suggestion to put on hold Bharat Jodo Yatra. The party's MP Dola Sen said: "They could've issued an advisory. We're at Parliament but no circular came for wearing masks or taking preventive measures. It is not the sole duty of the Centre to boss over state governments. Their responsibility is towards the public in which they have failed. We don't expect much from them."
-INDIA NEWS STREAM