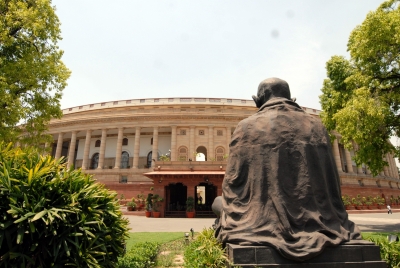 New Delhi : Both Houses of Parliament were adjourned till 2 p.m. on Monday after the opposition tried to raise the issue of Adani.
The adjournment motion in the Lok Sabha was rejected by the sSpeaker and the suspension of business notice was rejected by the Rajya Sabha chairman.
There were 10 notices in the Upper House by the opposition on the issue but were disallowed. Following pandemonium the House was adjourned till 2 p.m.
Earlier, the opposition parties protested at the Gandhi statue in Parliament premises demanding a Joint Parliamentary Committee (JPC) investigation or Supreme Court monitored probe in the Adani issue.
K.C. Venugopal of the Congress said, "The government's stand is exposed in the matter… that is why they are running away from debate and constituting a JPC."
Ahead of the House proceedings, the opposition parties met in leader of opposition Mallikarjun Kharge's Chamber in Parliament Building to chalk out a strategy on Adani financial scam & other issues.
Apart from the Congress, the meeting was attended by the DMK, NCP, BRS, JD(U), SP, CPI(M), CPI, Kerala Cong (Jose Mani), JMM, RLD, RSP, AAP, IUML, RJD and Shiv Sena (Uddhav Thackeray)
On Friday, Parliamentary Affairs Minister Pralhad Joshi said that the government has nothing to do with the matter and the opposition is raising it as it is bereft of issues.
Speaking to reporters in Parliament, Joshi, when asked about the government's stand on the Adani group issue, said that the government has got nothing to do with the matter.
"Government has nothing to do with it (Adani group issue)… The opposition is disrupting the House as it has no other issues," the Parliamentary Affairs minister said.
–IANS