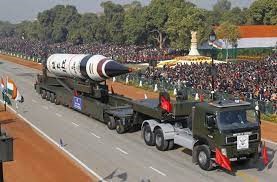 Agni V
Chinese spy ship entered Indian Ocean Region (IOR) as India is prepping up for long-range ballistic missile test, months after Chinese high-tech research ship was docked at Hambantota in southern Sri Lanka that led to diplomatic strains between India and Lanka.
Concerns: Chinese research and space-tracking vessel Yuan Wang-5 is being closely tracked by the Indian Navy after it entered the IOR through the Sunda Strait of Indonesia on Monday morning, according to Times of India sources. It is disturbing development in the wake of the presence of the 20,000-tonne Yuan Wang-5, which is packed with large antennae, advanced sensors and electronic equipment with a crew of around 400. It comes after India recently issued a NOTAM (notice to airmen) with a long expanded no-fly zone over the Bay of Bengal for a missile test from the Abdul Kalam Island off Odisha coast on December 15-16.
Agni V: Inter Continental Ballistic Missile Agni-V is capable of striking targets at ranges up to 5,000 kilometres with very high degree of accuracy, as per media reports. The indigenously developed missile is in the process of being inducted into the tri-service Strategic Forces Command, which manages India's nuclear arsenal. The first "user trial" of the three-stage Agni-V, which brings even the northernmost part of China within its strike envelope, in its "full operational configuration" was conducted by the SFC in October last year, as per media reports.
India's closely watching Yuan Wang-5: The ship is now being closely watched by the Indian Navy. "There are a lot of Chinese ships which operate in the Indian Ocean Region. We have about 4-6 PLA Navy ships, then some research vessels which operate. A large number of Chinese fishing vessels operate in the Indian Ocean Region. We keep a close watch on all developments," the Navy Chief said during a press meet. Open source geospatial intelligence analyst Damien Symon had speculated recently about the return of the Chinese vessel to the Indian Ocean region.
Not the first time: This is not the first time that the communist nation tried to create disturbance. It is not clear whether the missile test will actually be conducted as scheduled or be deferred. The presence of another such Chinese vessel, Yuan Wang-6, in the IOR had led to a test of the 3,000-km Agni-3 missile being deferred by some days last month, according to defence sources.
Freedom of navigation: As all countries have the freedom of navigation in the international waters. India cannot object to the frequent forays of such Chinese spy ships in IOR. "China, of course, also has several satellites to monitor our missile tests," the sources said.