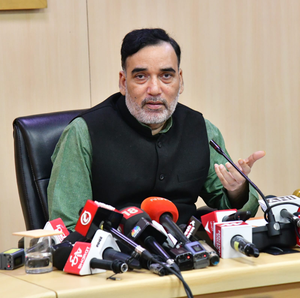 New Delhi: In the wake of the air quality dipping in the national capital from 'poor' to 'very poor' category, Delhi Environment Minister Gopal Rai on Monday said that it has discovery eight new pollution hotspots in the city.
Earlier in the day, Rai held a meeting at the Delhi Secretariat with officials from 28 departments after the Air Quality Index (AQI) in the national capital crossed the 300-mark.
Later, addressing a press conference, the Minister said that there are 13 pollution hotspots in Delhi. "Today, eight other points, including Shadipur, Mandir Marg, Patparganj, Sonia Vihar and Moti Bagh witnessed AQI levels above 300 due to local reasons. Special teams will be deputed here to identify and inspect local sources of pollution there," he said.
Rai also said that the government has additionally opted to employ dust suppressant powder as a means to counter dust pollution within the city.
"The cold has started increasing in Delhi and speed of the wind has decreased, this may result in an increase in pollution… The particulate matter is staying near the ground. The second phase of GRAP has been implemented in Delhi."
"The weather is not in our hands but the sources need to be controlled… GRAP 2 is mainly about cleaning and water sprinkling etc… Frequency of buses and trains would be increased," the minster said.
"Directions have also been issued to use dust suppressant powder in anti-smog guns to prevent dust pollution. The anti-dust campaign will be strengthened, and more field visits will be conducted," he said,
"Diesel generator steps being used in violation of rules will attract action," he said.
He further said that 91 congestion points had been identified and traffic officials have been asked to streamline vehicular movement in these areas.
With AQI crossing 300-mark that falls in the 'very poor' category, the second stage of GRAP is being implemented in Delhi. A further dip in air quality may lead to more restrictions, including curbs on vehicular movement and closure of schools and colleges.
He also highlighted that several top officials skipped the critical meeting earlier in the day.
"We had invited secretaries of all the departments concerned, but they did not attend the meeting. I appeal to the Chief Secretary to ensure participation of officials," Rai said.
He also announced that the 'Red Light On, Gaadi Off' campaign will start from October 26.
The campaign aims to reduce air pollution in the city by encouraging people to turn off their engines while waiting at red lights.
Rai also said that district collectors have been directed to conduct field visits on October 25 and ensure the strict implementation of pollution mitigation measures.
IANS