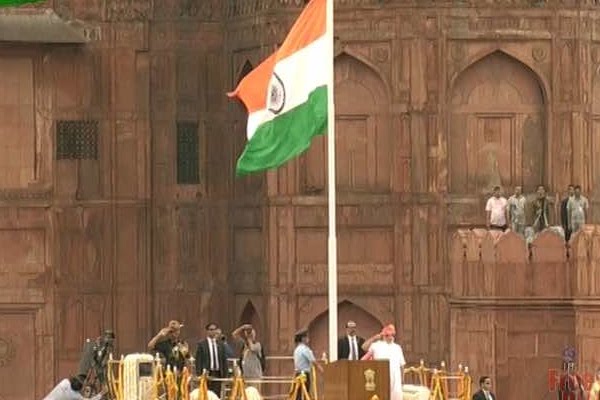 New Delhi: As we celebrate 75th anniversary of our independence tomorrow, very few people know that the first tricolour furled at historic Red Fort in 1947 was made in Dausa in Rajasthan.
On every independence day in every nook and corner of the country tricolour is furled and everyone feels proud. They salute the tricolour and remember those who laid their lives for the freedom. For the people of Dausa in Rajasthan, celebration is doubled as there is a connection of Dausa to the tricolour. The first tricolour furled at Red Fort was made in Aluda in Dausa by a weaver named Chauthmal.
The task to make a tricolour was given to Deshpande and General tad of Charkha Sangh. Three tricolurs were brought from different areas of the country. It is said that the tricolour made by Chauthmal was chosen for the ceremony. Though, there is no written evidence anywhere. Dausa's weavers' art of making triclour continues till date. Khadi Committee, Dausa spokesperson says that tricolour was sent from three different areas, however the tricolour furled on morning of 15th August 1947 was from Dausa. He adds that Dausa's name is associated with the tricolour since then.
The cloth for tricolour is manufactured in three places in the country, which include Nader in Maharashtra, Hubli in Karnataka and Dausa in Rajasthan. Cloth is manufactured by Dausa Khadi Samiti. Cloth is then sent to Khadi Dyers and Printing where tricolour is made.
A tricolour furled at Congress Session by Jawahar Lal Nehru before independence is still kept in the Merut (Hastinapur) home of Anju Nagar who belongs to Nimrana of Alward district of Rajasthan. According to Nagar's cousin Tarun Raval the tricolour was furled at last session of Congress in Merut in 1946 adding that the Nagar family has kept the tricolour till date. The tricolour is 14 feet by 9 feet.