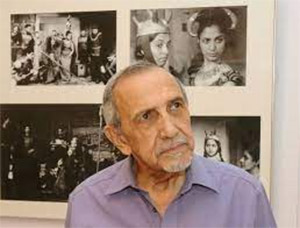 Chandigarh: In the 1920s, an Arab trader came to India and got settled in Bombay, now known as Mumbai. He was from Saudi Arabia and his wife from Kuwait. They gave birth to nine children. One of them was Ebrahim Alkazi (born on October 18, 1925) who rose to become the architect of modern Indian theatre.
Having served as the director of the prestigious National School of Drama (NSD) for three consecutive terms from 1962 to 1977, he groomed talented actors like Naseeruddin Shah, Om Puri, Manohar Singh, Om Shivpuri, Anupam Kher, Raj Babbar, Rohini Hattangadi, Surekha Sikri; film director Sai Paranjpye and theatre directors Ratan Thiyam, M.K. Raina and Ram Gopal Bajaj.
When Alkazi passed away on August 4 last year at the age of 95, he had left behind a rich legacy not only in the theatre world, but also an indelible impact on the realm of arts in India as he was an influential collector of art works and patron of artists.
From Mumbai, Alkazi's father later shifted his family to Pune where young Ebrahim had his schooling in St. Vincent's High School. However, he returned to Mumbai for higher education and got enrolled in St. Xavier's College. It was in the Dramatic Society of this college that he got initiated into theatre. In Mumbai, he also came in touch with Sultan Padamsee — a young poet, writer and theatre director, who had his education at Oxford. They both ran a drama company 'Theatre Group' and staged English plays.
In 1948, Alkazi's father sent him to London to study at the Royal Academy of Dramatic Art (RADA). After finishing his course there, he returned to Mumbai even as he got career opportunities in England, having been honoured by the British Drama League and the British Broadcasting Corporation (BBC). In Mumbai, he joined Theatre Group again in 1952 and worked for it till 1954 before he set up his own group Theatre Unit.
In late 50s, Alkazi received the central government's offer to head the NSD, which he declined thinking that he was too young and inexperienced. He finally agreed to become the director of NSD in 1962 and that became the defining event of his career.
Terming Alkazi as "inspiring teacher" in his memoirs 'And Then One Day', Naseeruddin Shah says, "I was under the wing of someone who could show me the way: he tried to teach us art appreciation, introduced us to classical music, to the myriad Indian theatrical forms, to serious cinema; he goaded us to read, to wake up early, to work on our instruments."
During his 15-year tenure at the NSD, Alkazi directed over 50 plays. Some of these presentations, including 'Andha Yug' and 'Tughlaq', are still remembered not only for their grandeur but for their venue as these were staged at historic ruins of Feroz Shah Kotla fort and the Purana Qila, respectively.
'Andha Yug' (1963) became such a sensation that even the then Prime Minister Jawaharlal Nehru turned up to watch it.
Alkazi was known for giving minute attention to every aspect of theatre be it the script, acting, set-designing, lighting, costume etc.
"He was multi-talented and strict disciplinarian. For him, everything had to be perfect," says Patiala-based Neena Tiwana (82), widow of late theatre stalwart and filmmaker Harpal Tiwana. Both Neena and Harpal were students of Alkazi. While Harpal was a batchmate of Sai Paranjpye and Om Shivpuri, Neena had Mohan Maharishi and Ram Gopal Bajaj as her classmates.
He had a great knowledge and understanding of world literature and drama, adds Neena. "He also encouraged students to have in-depth knowledge of all aspects of theatre."
"Alkazi was highly punctual. Despite being a director, he used to be the first individual to reach the NSD premises," remembers Neena, adding that he was very particular about cleanliness, "so much so that he would often check whether his students had trimmed their nails or not."
However, when he was not teaching or rehearsing with his students, he was quite warm and intimate, she clarifies.
Neena's son Manpal Tiwana, who now carries the theatre legacy of his parents and runs Harpal Tiwana Foundation, says, "After my father's death, mother and I called on Alkazi at Delhi in 2008. He met us with great warmth. He told me your mom was one of our most beautiful and talented students."
—-INDIA NEWS STREAM