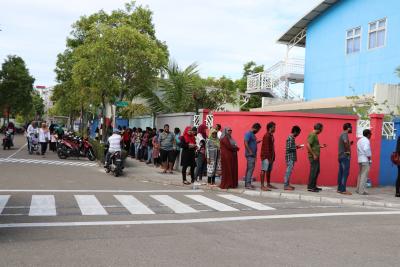 Male: People across the Maldives on Saturday are voting in the presidential runoff polls after no candidate secured more than 50 per cent of votes required to win in the first round.
The runoff election features a head-to-head contest between incumbent President Ibrahim Mohamed Solih and Progressive Party of Maldives (PPM) and People's National Congress coalition's candidate Mohamed Muizzu, who is also the mayor of capital city Male, reports Xinhua news agency.
According to the Election Commission, a total of over 282,000 people are eligible to participate in the voting to choose the island nation's new president with a five-year term.
Voting started at 8 a.m. and will conclude at 5 p.m. on Saturday evening, with 586 ballot boxes being set up for the election.
Muizzu secured more than 46 per cent of the votes, while Solih followed behind with 39 per cent in the first round of the presidential election held on September 9.
IANS