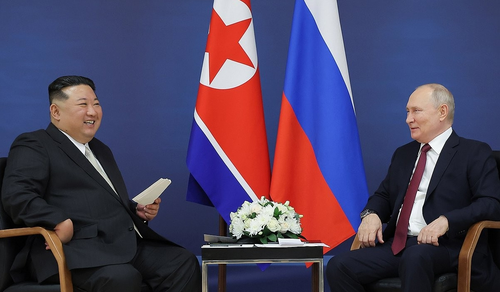 Seoul: Russian President Vladimir Putin has accepted North Korean leader Kim Jong-un's invitation to visit his reclusive country which was extended after their summit at the remote Vostochny spaceport in the Far Eastern Amur Region, Pyongyang's state media reported on Thursday.
Kim extended the invitation at an official dinner with Putin on Wednesday night after their summit, the North's official Korean Central News Agency (KCNA) said.
This was Kim's first meeting with Putin since his visit to Vladivostok in April 2019, reports Yonhap News Agency.
"At the end of the reception, Kim Jong-un courteously invited Putin to visit the DPRK at a convenient time," the KCNA reported.
"Putin accepted the invitation with pleasure and reaffirmed his will to invariably carry forward the history and tradition of the Russia-DPRK friendship."
DPRK stands for the Democratic People's Republic of Korea, the North's official name.
The summit came as Pyongyang has recently been seeking to bolster military ties with Moscow and doubling down on its weapons development amid growing security cooperation among South Korea, the US and Japan.
During the meeting, Kim said his latest trip to Russia marks a "significant" occasion to raise cooperative bilateral ties to a higher level, according to the KCNA.
"It is the consistent stand of the DPRK government to attach utmost importance to the DPRK-Russia relations and invariably develop the tradition of deep-rooted friendship," Kim was quoted as saying by the KCNA.
The KCNA said the two sides discussed strengthening cooperation "on the common front to frustrate the imperialists' military threat and provocation", although it did not specify the discussion's details.
"They discussed with open mind the important issues and the immediate cooperation matters arising in defending the sovereignty and development and interests of the two countries," it said.
During the dinner reception, Putin noted that bilateral relations are invariably oriented to comradely and good neighbourly relations as ever, the KCNA reported.
In response, Kim expressed his will to work for a "far-reaching" plan for bilateral ties with Putin, and "to dynamically promote the powerful nation-building cause in the two countries and realize genuine international justice", it said.
The KCNA added that Kim left for his next destination, without providing details.
Putin earlier announced that Kim will travel to Komsomolsk-on-Amur and Vladivostok in Russia's Far East after the summit.
South Korean and US officials have expressed concerns over the meeting and a possible arms deal between the two countries that could assist Moscow's war efforts in Ukraine.
IANS