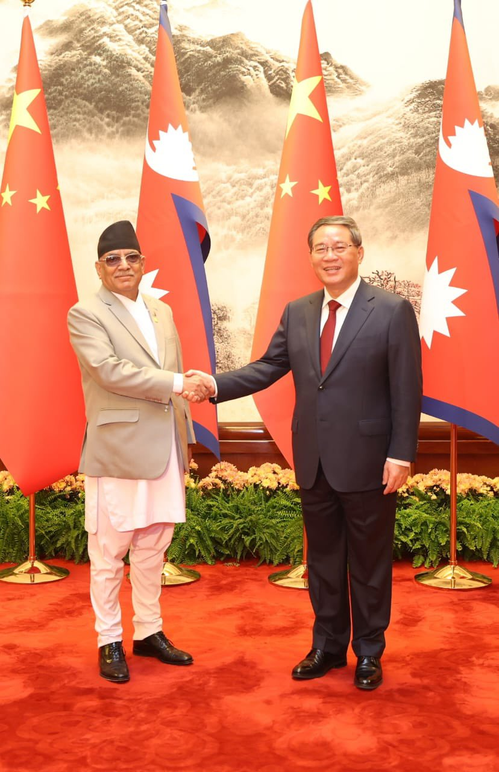 Kathmandu: Nepal and China signed 12 different agreements, including one MoU, on Monday during the official visit of Prime Minister Pushpa Kamal Dahal Prachanda to China.
Dahal is currently visiting China at the invitation of his Chinese counterpart Li Qiang and held talks with Chinese President Xi Jinping on Saturday in Hangzhou, on the sideline of the 19th Asian Games.
After the delegation-level talks between Dahal and Li in the Great Hall of the People, these 12 agreements, including a MoU, were signed, according to the Nepali side.
Those agreements signed on Monday are cooperation between China's National Development and Reform Commission and Nepal's National Planning Commission, exchanging the notes of the 2017 Nepal-China Memorandum of Understanding on the production and distribution of various goods in the northern mountainous region of Nepal and another agreement is related to China's National Development and Reform Commission and Nepal's Ministry of Finance for cooperation on increasing the digital economy.
Similarly, cooperation between the Chinese Commission and Nepal's Ministry of Forestry and Environment for green and low carbon development, agreement on cooperation for the development of agriculture, livestock, and fisheries, and formation of a joint technical working group to review and amend the China Nepal Trade and Payment Agreement signed in 1981 were among the agreements signed.
On this occasion, the General Administration of China, the Ministry of Customs, and the Ministry of Agriculture and Livestock Development of Nepal have agreed on a protocol regarding the export of plants for medicinal production from Nepal to China and an agreement has been reached between the Chinese Department of Press and Publication and the Ministry of Culture, Tourism and Civil Aviation to translate and publish ancient texts.
Likewise, Nepal's Ministry of Education, Science and Technology and the Ministry of Science and Technology of China agreed to cooperate in the fields of science, technology, and innovation and agreement on disaster materials, human resources, and construction of the Hilsa Simikot road project, that will connect Nepal's northern border with China's Tibet.
Dahal, in his address to the business community of China, invited them to invest in the priority areas of Nepal's economic development and stressed building strong collaboration between the private sectors of the two countries which functions as an engine of growth.
In the context of Nepal's graduating from the LDC status in 2026, Chinese investment could facilitate Nepal in upscaling its productive capacity and transforming its economic structure, he said.
IANS