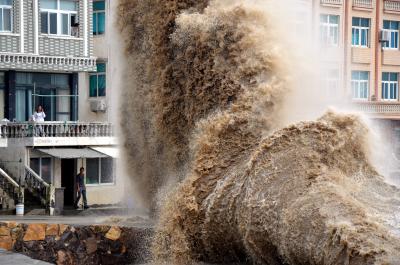 Beijing: China's flood control authorities have activated a level-4 emergency response against Koinu, the 14th typhoon of this year, so as to better cope with gales and rainstorms expected to hit the country's southeastern regions on Wednesday.
In a forecast early Wednesday, the National Meteorological Centre said that Koinu had weakened in intensity from a super typhoon to a severe typhoon as of Tuesday night, reports Xinhua news agency.
The weather bureau has also maintained a yellow alert against the
The typhoon, observed at 22.0 degrees north latitude and 124.0 degrees east longitude at 5 a.m. on Wednesday, is expected to travel northwestward at a speed of 10 to 15 km per hour and gradually move closer to the southern coastal areas of Taiwan, the Centre said.
Due to the typhoon's impact, the central and eastern parts of Taiwan are expected to see heavy rainstorms from Wednesday morning until Thursday morning, it said.
Meanwhile, gales are forecast to sweep parts of the East China Sea and South China Sea, as well as the coastal areas of Zhejiang and Fujian provinces in from Wednesday morning until Thursday morning, it said.
The State Flood Control and Drought Relief Headquarters, which issued the emergency response, have emphasized the need to strengthen forecasts and make early warnings so that offshore vessels and fishing personnel and those on offshore operation platforms could take shelter timely and stay safe.
The headquarters decided to maintain level-4 responses in dealing with the flood control work in Hubei, Shaanxi, Chongqing and Sichuan.
IANS