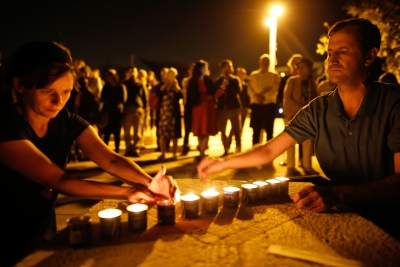 Washington: The gunman who carried out the 2018 mass shooting at a synagogue in Pittsburgh — the deadliest antisemitic attack in US history — was driven by "malice and hate", a court has heard.
Eight men and three women — ranging in age from 54 to 97 — died in the attack inside the Tree of Life synagogue on October 27, 2018, reports the BBC.
The 50-year-old gunman Robert Bowers, who has pleaded not guilty, is on trial for more than 60 federal charges including obstruction of free exercise of religion resulting in death and hate crimes resulting in death.
During a hearing on Tuesday at the US District Court in Pittsburgh, Soo Song, the lead prosecutor, said: "The defendant had moved methodically through the synagogue to find the Jews he hated and kill them."
His "malice and hate can only be proven in the broken bodies" of the victims, the prosecutor added.
If convicted, Bowers could get the death penalty.
The court also heard audio of the 911 call one of the victims, Bernice Simon, made to emergency dispatcher Shannon Basa-Sabol, who was the first witness in the trial.
Simon and her husband, Sylvan, were both killed.
Tree of Life rabbi and attack survivor Jeffrey Myers testified how he prayed while on the line with a police dispatcher as the attack unfolded.
"I thought about the history of my people, how we've been persecuted and hunted and slaughtered for centuries, and how all of them must have felt the moments before their death, and what did they do," the BBC quoted Myers as saying in the court.
In April, a report by the US-based Anti-Defamation League revealed that the number of antisemitic incidents in the country had increased by more than 35 per cent in the past year, from 2,721 in 2021 to 3,697 in 2022.
Antisemitic hate crimes spiked in New York, Los Angeles and Chicago — home to the country's three largest Jewish populations, according to the police.
IANS