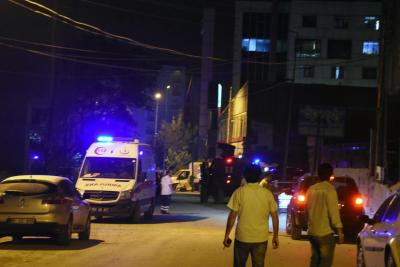 Ankara: The Turkish government has said that two terrorists carried out a bomb attack in front of the Interior Ministry buildings in Ankara, adding that one of them died in the explosion and the other was "neutralised" by authorities, media reported.
The blast was the first in the Turkish capital since 2016 and took place less than a mile from the parliament building, hours before lawmakers were due to return for its reopening after a three-month summer break, the Guardian reported.
Ali Yerlikaya, the Interior Minister, said on the social media platform X that two attackers approached the general security directorate building at about 9.30 a.m. local time on Sunday in a commercial vehicle.
According to Yerlikaya, one detonated explosives, killing himself in the process, while the second was killed by gunfire from security forces stationed outside the building, The Guardian reported.
Two police officers were slightly injured in the incident, he added.
Authorities closed a main thoroughfare to traffic that passes close to a number of state institutions, including the parliament building.
Police also announced they would carry out controlled explosions for "suspicious package incidents" in other parts of the city.
According to the state-run Anadolu news agency, Turkey's criminal court of peace in Ankara issued a ban on media access and publication of the attack.
Turkish authorities last year passed a sweeping new law intended to curb "disinformation", with those accused of breaching the law threatened with up to three years in prison, The Guardian reported.
The law came into force shortly before an assailant detonated a bomb on one of the busiest shopping streets in Istanbul last November, killing six people and wounding at least 81. Turkish officials blamed Kurdish militants for the attack.
The attack in Ankara follows a spate of attacks across Turkey in recent years that officials largely blamed on members of the Islamic State or Kurdish militant groups, The Guardian reported.
In February 2016, a bomb struck a convoy of vehicles carrying military personnel during rush hour in the Turkish capital Ankara, killing 30 and wounding 60 people.
A month later, a second bomb struck a central boulevard in Ankara, killing 37 people and injuring 125. The Kurdistan Freedom Hawks claimed responsibility for both attacks.
Echoing a response to previous attacks, Turkish officials rushed to condemn alleged disinformation about the latest attack in Ankara.
Fahrettin Altun, who heads Turkey's directorate of communications, an institution affiliated with the presidency, cautioned Turkish citizens against the spread of what he labelled disinformation.
"We would like to emphasise once again the importance of our media continuing its news activities on the subject with a sense of responsibility," Altun said on X.
The Interior Minister, recently appointed in a cabinet reshuffle following an election earlier this year, thanked the media for covering the attack in Ankara while reminding them of a broadcast ban imposed by broadcasting watchdog, the Radio and Television Supreme Council.
He added: "We are deeply wounded by today's incident…let me warn people who share these images once again, please delete them, do not disrespect our pain."
IANS