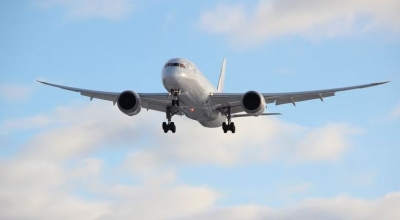 New Delhi: The Directorate General of Civil Aviation (DGCA) has released the Domestic Winter Schedule for 2023, signalling a significant increase in domestic air travel.
Under the schedule 2023, there will be a total of 23,732 weekly departures connecting 118 airports.
To be in effect from October 29, 2023, to March 30, 2024, the schedule marks a notable recovery after two consecutive years of reduced domestic flight operations.
According to the DGCA, one of the standout features of this winter schedule is the notable increase in weekly departures, with a total of 23,732 flights set to operate to and from 118 airports.
This represents a considerable uptick compared to the 22,907 weekly departures from 110 airports in the preceding Summer Schedule.
"Among these 118 airports, Bhatinda, Jaisalmer, Ludhiana, Nanded, Shivmoga, Salem, Utkela, Hindon, and Ziro are the new additions proposed by scheduled airlines. However, Gondia airport will not be part of the operations in the Winter Schedule of 2023," a senior DGCA official said.
The DGCA said that Alliance Air will operate additional 914 flights, Air India 2,367, Air Asia 1,457, Indigo 13,119, SpiceJet 2,132, Vistara 1,902, Star Air 247, Air India Express 483, Akasa Air 790 and Pawan Hans 18 among others.
The growth in numbers of departures in Winter Schedule 2023,
As per airline, Alliance Air records 3.04 per cent, Air India 8.68 per cent, Go Air sees a 100 per cent decrease in operations, Air Asia a minimal 0.07 per cent growth, Indigo a significant 14.43 per cent growth, SpiceJet a 4.82 per cent decline, Vistara 2.48 per cent growth, Star Air 5.56 per cent growth, Air India Express a remarkable 36.59 per cent growth, Akasa Air 5.19 per cent growth, and Pawan Hans makes an entry.
The overall growth in the number of departures for Winter Schedule 2023 compared to Summer Schedule 2023 stands at 3.60 per cent. "The cumulative growth in the number of departures for Winter Schedule 2023 compared to Winter Schedule 2022 is 8.16 per cent," as per DGCA.
Notably, the number of airports involved in this extensive schedule has expanded to 118, demonstrating the growing reach and accessibility of India's air travel network.
IANS