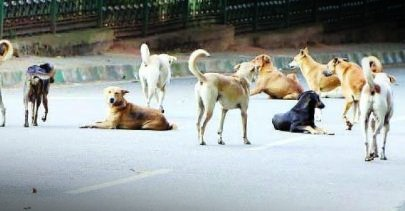 Ghaziabad/Noida: Incidents of stray dogs attacking people, especially children and the elderly, have become a cause for worry among the residents of Noida and Ghaziabad, where residents live in fear of being attacked by man's best friend.
Even though Noida and Ghaziabad are considered to be Uttar Pradesh's showcase cities, but still they are beset by their own problems. Daily, numerous videos surface showing stray dogs targeting common people on the streets, inside societies, and in parks there.
Approximately 500 cases of dog bites are reported daily from Noida and Ghaziabad and over 1.25 lakh dogs are wandering the streets.
Ghaziabad Municipal Corporation revealed that dog sterilisation has been underway since 2013 to control the population of stray canines. Over the last 10 years, the municipal corporation has sterilised 24,580 dogs. However, despite that, the number of stray dogs exceeds 60,000 in the area.
Noida Authority claims to have neutered 40,000 to 45,000 stray dogs however, despite these efforts by the authority the dog population in Noida is not decreasing.
The number of pet dogs in Noida is also high and the Noida Authority Pet Registration Application (NAPR) app has registered around 10,000 canines. By and large pet dogs are not an issue in the area but the huge population of street dogs certainly is a problem.
The Noida Authority has hired two agencies to capture stray dogs. These agencies claim to capture around 1,200 dogs every month. Almost 40,000 anti-rabies injections are administered annually at the district's government hospital for animals.
The problem of stray dogs has led to recurring conflicts between dog lovers, animal rights activists and numerous residents.
On October 9, a video emerged from a Noida society in Sector 40, showing two women engaged in an altercation over the feeding of stray dogs. In the video, one woman who was feeding a street dog was accosted by another woman who opposed it. This led to a heated argument which escalated into physical violence.
The whole incident was captured on video by onlookers and it quickly went viral on social media after that.
Such spats between dog lovers and those who oppose them have become commonplace in high-rise societies in Noida and Ghaziabad.
The allegation is that feeding of strays is done in parks and areas throughout the region instead of designated feeding areas. This has led to dogs residing in parks and causing fear among the people. There are also complaints that the dogs enter people's homes and create a mess.
Also, if these dogs are denied food at these spots, they tend to become aggressive and sometimes prey on the general public. This is why people oppose animal lovers, who feed dogs in undesignated feeding areas.
However, animal lovers contend that dogs are territorial animals and don't stray too far from their areas, hence, the designated feeding areas should not be far from where the dogs live because they will not go there to eat due to fear of other dogs.
Whatever the case, an amicable solution has to be found to this problem soon for everyone's peace of mind.
IANS