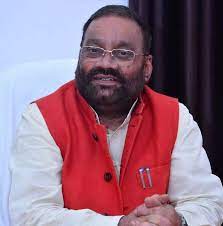 Lucknow: An FIR has been lodged against Samajwadi Party (SP) MLC Swami Prasad Maurya over his remark on the Ramcharitmanas, an epic poem in Awadhi language by Tulsidas.
The FIR was lodged at the Hazratganj police station in Lucknow on the complaint of Shivendra Mishra.
Maurya on Sunday sparked a major controversy after he demanded the deletion of "insulting comments and sarcasm" targeted at particular castes and sects in Ramcharitmanas.
The SP leader said: "I don't have any issue with Ramcharitramanas but parts of it have insulting comments and sarcasm directed at particular castes and sects. Those should be removed."
He further claimed that in the Ramcharitmanas, some words hurt the sentiments of the Dalit community.
Additional DCP Rajesh Srivastava, said that Mishra, in his FIR, stated that through news channels and newspapers, he came to know that Maurya made the unsavoury comments against Ramcharitmanas and such remarks may create a rift in the society and lead to communal tension.
However, the SP has distanced itself from Maurya's remarks.
The party's chief whip in the Uttar Pradesh Assembly Manoj Pandey said: "People everywhere, including other countries, read Ramcharitmanas, accept it and follow it and we all respect Ramcharitmanas."
BJP state president Bhupendra Singh Chaudhary asked the SP to clarify whether it was Maurya's individual belief or of the party.
Maurya had switched to the BJP from the BSP ahead of the 2017 polls.
Five years later before the 2022 Assembly elections, he joined the SP.
After he lost in the polls, the SP got him elected to the Legislative Council.
IANS