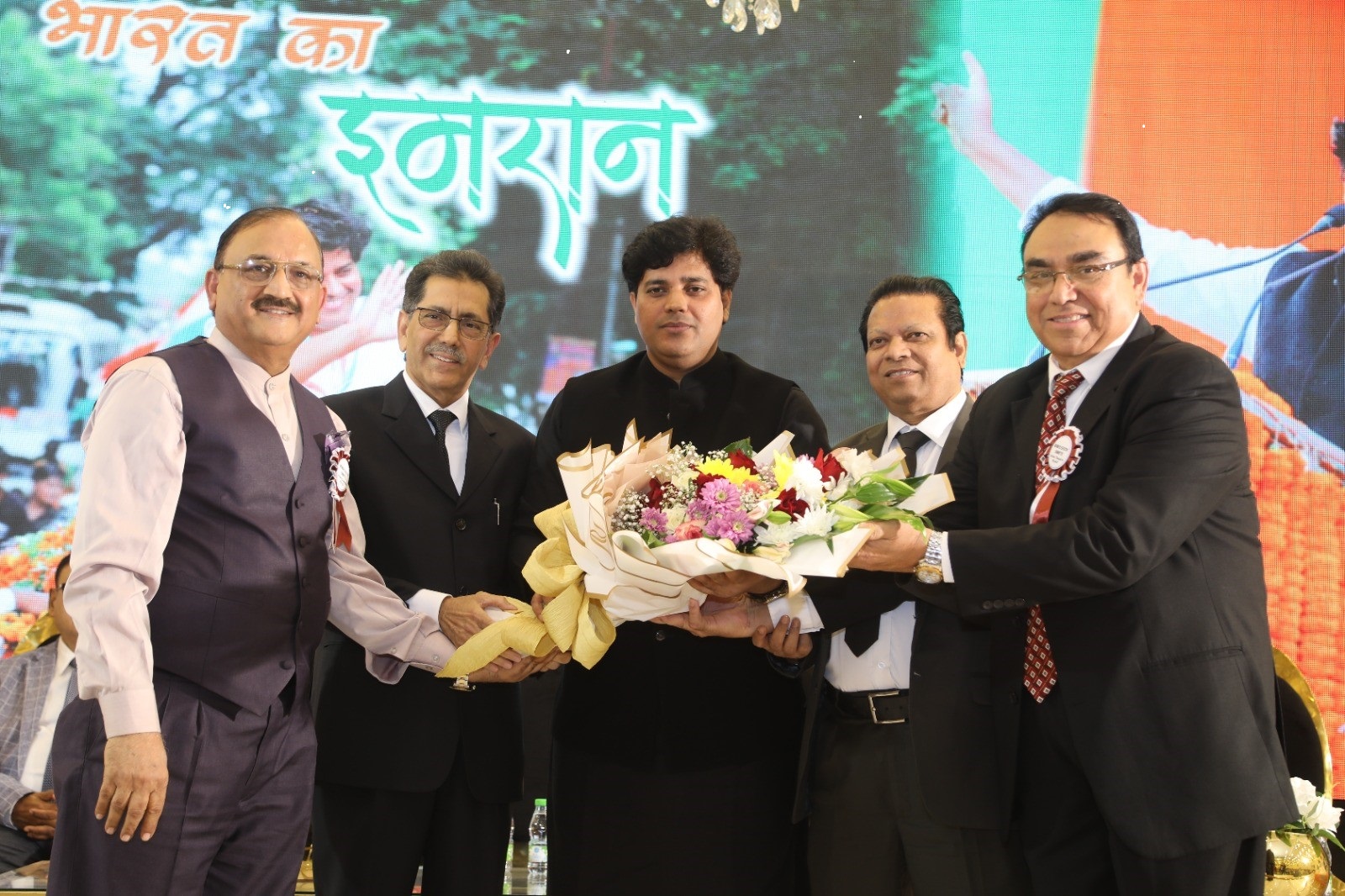 RIYADH: A felicitation of top-notch Indian poet and member of Indian parliament Imran Pratapgarhi followed by his poetry rendition in the Saudi capital city of Riyadh recently was a huge success. The event, attended by about 600 Indian expatriates, was followed by a brief speech of Pratapgarhi in which he profusely thanked Custodian of the Two Holy Mosques King Salman and Crown Prince Mohammed Bin Salman for hosting about 2.5 million Indian workers in the Kingdom.
Patapgarhi, who portrayed the plight of Palestinians and the deadly cross-fire in Gaza through his compositions during the event, was invited to Riyadh by his friends Talib Ur Rehman, Deputy Managing Director of Al Hada Group and former chairman of International Indian School (IISR), and Ghazanfar Ali Khan, a senior journalist and media consultant. The event, held in the spacious Qasr Umsiat function hall here, witnessed a huge turnout, including leading Indian businessmen, professionals, and women.
In his brief remarks before the rendition, Pratapgarhi applauded the exemplary arrangements made by the Kingdom for Haj and the unparalleled services provided to the pilgrims. He also mentioned his meeting with Talib Ur Rahman in Dammam, where the visit of Pratapgrahi to Riyadh and the program were discussed in detail. Talib Ur Rahman led the four-member organizing team of this mega-event comprising Dr Dilnawaz Roomi, Mohammed Fakhre Alam, and Ghazanfar Ali Khan.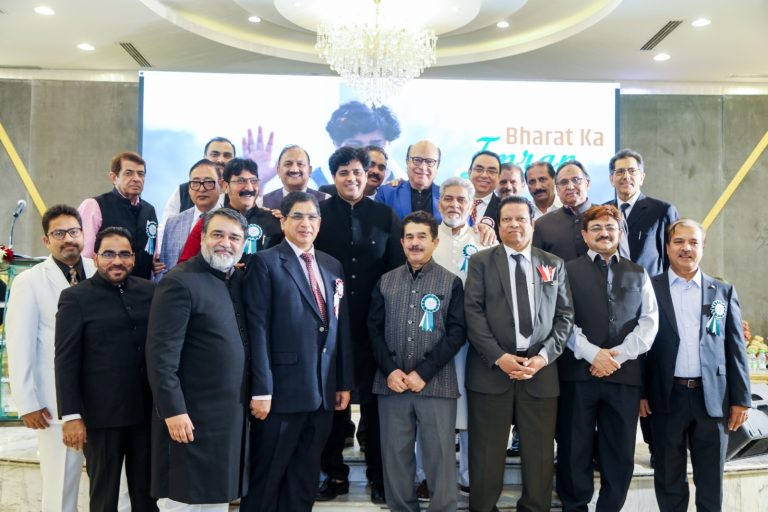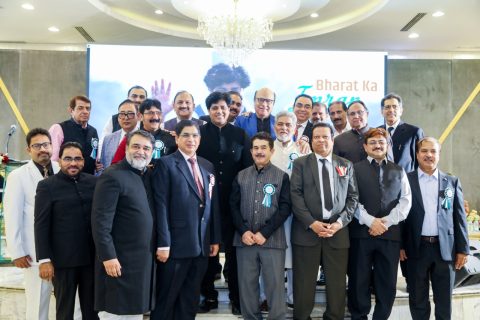 In his poetry, Pratapgarhi delved into the current situation in Palestine and came out firing on all cylinders. His new poem mirrors the pain and suffering of men, women, and children in Palestine. As the relentless turmoil in Gaza chocks the world, Pratapgarhi recites his composition while drawing inspiration from the work of Allama Iqbal. The last stanza of his poem took the breath away and forced the tears to ooze out of the eyes of the audience when he uttered–
Hum nahin kehte hamein koee paiyamber dey dey
Tere hi aage jo jhuke hum ko sar de de
Aye Khuda phir se ababilon ko kankar de de
Kaun kehta hai nafrat se chalegi duniya
Tu dikha de ke mohabbat se chalegi duniya
Lab pe aati hai dua bun ke tamanna meri
Sun le tu aaj fariyad khudaya meri
What stands out in the whole poem is the poetic genius of Pratapgarhi and his ability to coin selective words and phrases to hit the emotional chord. In a world where the Palestinian-Israeli conflict continues to be a subject of debate, Pratapgarhi's words cross the boundaries, offering solace to the suffering masses in Palestine. Not only the poem on Palestine, he recited several compositions in Riyadh, which portrayed India's current political and social situations.
His composition on Lal Quila (Red Fort) left the audience clamoring and clapping several times. The audience got up to give a standing ovation when he uttered–
Main lal quila, lal quila, lal quila hun
Andaz mera mast malanga hi rahega
Ghumbad pe mere sada tirnaga hi rahega
Wo phool hun jo khar ki chhati pe khila hun
Main lal quila, lal quila, lal quila hun.
In fact, Pratapgarhi's rendition resonated deeply with the audience, making them feel as if they were connected to the entirety of their society. Pratapgarhi, who visited Riyadh for the first time after becoming a member of the Indian parliament, was felicitated by several community organizations, community leaders, and individuals. Pratapgarhi is also the chief of the AICC Minority Department besides being a newly-elected Aligarh Muslim University (AMU) Court member.
On behalf of the Indian diaspora, he was presented with a plaque of appreciation and several flower bouquets. The event was attended by several prominent guests, including Omair Khan, in-charge of the AICC Minority Department of Jharkand, Maulana Mohammed Abutalib Rehmani, member of All India Muslim Personal Law Board, Motiur Rahman, founder of Bukhari University, Kishanganj (Bihar), Dr Nadeem Tarin, businessman, and Mohammed Amanullah, owner of Al Afaq Trading Company.
Speaking on this occasion, Abutalib Rahmani touched on the current situation in India with special reference to the plight of Muslims and minorities. Motiur Rahman, in his speech, called on the people, especially the Indian diaspora in Riyadh, to support the Bukhari University. The university project in the Muslim-majority district Kishanganj in Bihar is nearing completion. A prominent community leader, Abdul Ahad Siddiqui, president of the Purwanchal Welfare Association, introduced chief guest Pratapgarhi.
In his address to the audience, Omair Khan, who participated in the Bharat Jodo Yatra with Rahul Gandhi, spoke about his association with Pratapgarhi. A leading businessman Dr. Nadeem Tarin, and Mohammed Amanullah, owner of Al Afaq Trading Company, spoke on the occasion. The event also witnessed the launch of 15 media initiatives to support and safeguard the interests of Muslims and minorities in India.
Dr. Dilnawaz Roomi gave a vote of thanks in which he mentioned the generous support of the sponsors. Major sponsors whose support made the event a grand success included Engr Mohammed Nayeem, Viqar Hassan, Dr. Nadeem Tarin, Mohammed Amanullah, Rashid Ali Sheikh, Bakhtiyar Khan, Engr. Owais Ahmed, Nasim A. Biag, Anwarul Haque, Abdul Azim Khan, Mohd Shah Alam, Zaigham Khan, Anis Alam, Abrar Ahmed, Syed Ghufran, and Peshkar Ahmed.
He also thanked several individual sponsors, who took the sizeable number of invitation cards and distributed them freely among their friends and relatives. Pratapgarhi presented several appreciation plaques to sponsors and community leaders, including Shahjahan Ansari, owner of Mashal and Garden Restaurants, the event's official caterer. Imran Pratapgarhi was also presented with a large fancy appreciation plaque by the organizing committee members.
Sohail Ahmed, the emcee, gave the introductory remarks and kept the audience engaged from beginning to end. A short video on the life and times of the poet-turned-politician was also shown during the event. The felicitation ceremony began with a recitation of the Holy Quran by Qari Abdul Rehman Omari. A cross-section of who's who of Saudi Arabia at the event included Prof. Asif Rameez Daudi, Dr Dilshad Ahmad, Wasi Haider Rizvi, Dr Misbhaul Arifin, Faiz Ahmed, Iftekhar Ahmed, and Sultan Mazharuddin.
Talibur Rahman hosted a dinner in honor of Pratapgarhi, while Dr Nadeem Tarin organized a lunch buffet at his residence for guest. During his three-day stay in Riyadh, Fakhre Alam hosted a lavish lunch at the city's Chingari Resturant, while the Indian Education Forum led by Dr Dilshad hosted a breakfast and interactive session. A luncheon meeting was also organized by Shahjahan in his restaurant.
—-INDIA NEWS STREAM