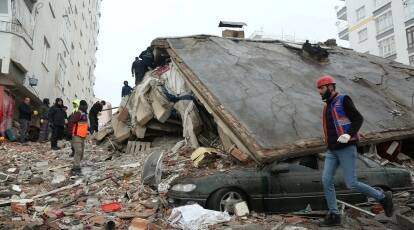 Two fresh earthquakes of 5.6 and 5.7 magnitude on the Richter scale jolted Turkey on Tuesday, a day after three deadly quakes which so far claimed more than 5,000 lives, according to the United States Geological Survey (USGS).
The fresh earthquake comes only 24 hours after a high-intensity earthquake of magnitude 7.8 struck southeastern Turkey which followed by dozens of aftershocks, sending powerful tremors to neighboring Syria. A second major earthquake registering 7.5 on the Richter scale hit central Turkey just a few hours later. In the evening, another quake of magnitude 6.0 hit the area, causing more damage and loss of lives.
According to Reuters, the rescue and search activities have been impeded by back-to-back earthquakes, the most recent of which was recorded in the country's eastern part. Rescuers are allegedly working hard to help victims trapped beneath the rubble as the death toll rises.
'India: A Friend In Need'
Turkey has termed India as "dost" for providing funds to the country in the trying times. Ambassador of Turkey to India Firat Sunel thanked New Delhi and said, "a friend in need is a friend indeed." Taking to Twitter, Mr Sunel said, "Dost" is a common word in Turkish and Hindi… We have a Turkish proverb: "Dost kara gunde belli olur" (a friend in need is a friend indeed). Thank you very much India."
Earlier, Union Minister of State (MoS) for External Affairs V Muraleedharan visited Turkey's embassy and expressed condolences. He also conveyed Prime Minister Narendra Modi's sympathy and humanitarian support.
Meanwhile, more than 20 nations, including the United States, are arranging emergency aid for Turkey. The European Union (EU) has already activated search and rescue teams.
Turkey President Recep Tayyip Erdogan said: "It is one of the biggest disasters not only in its history but also in the world." The death toll from the devastating earthquakes in Turkey and Syria has climbed to 5,000. Turkey officials say more than 20,000 people were injured by the earthquake. Officials feared the number of dead would continue to rise as rescuers searched the rubble for survivors.
Notably, Turkey sits on three major tectonic plates—African, Arabian, and Eurasian—making it one of the world's most active earthquake zones.
Nearly 6000 buildings collapsed
Thousands of buildings have collapsed in the worst affected cities of Syria and Turkey. Over 5,600 buildings were destroyed in Turkey alone, including hospitals and other crucial buildings, reported Associated Press, citing disaster management officials.
-INDIA NEWS STREAM