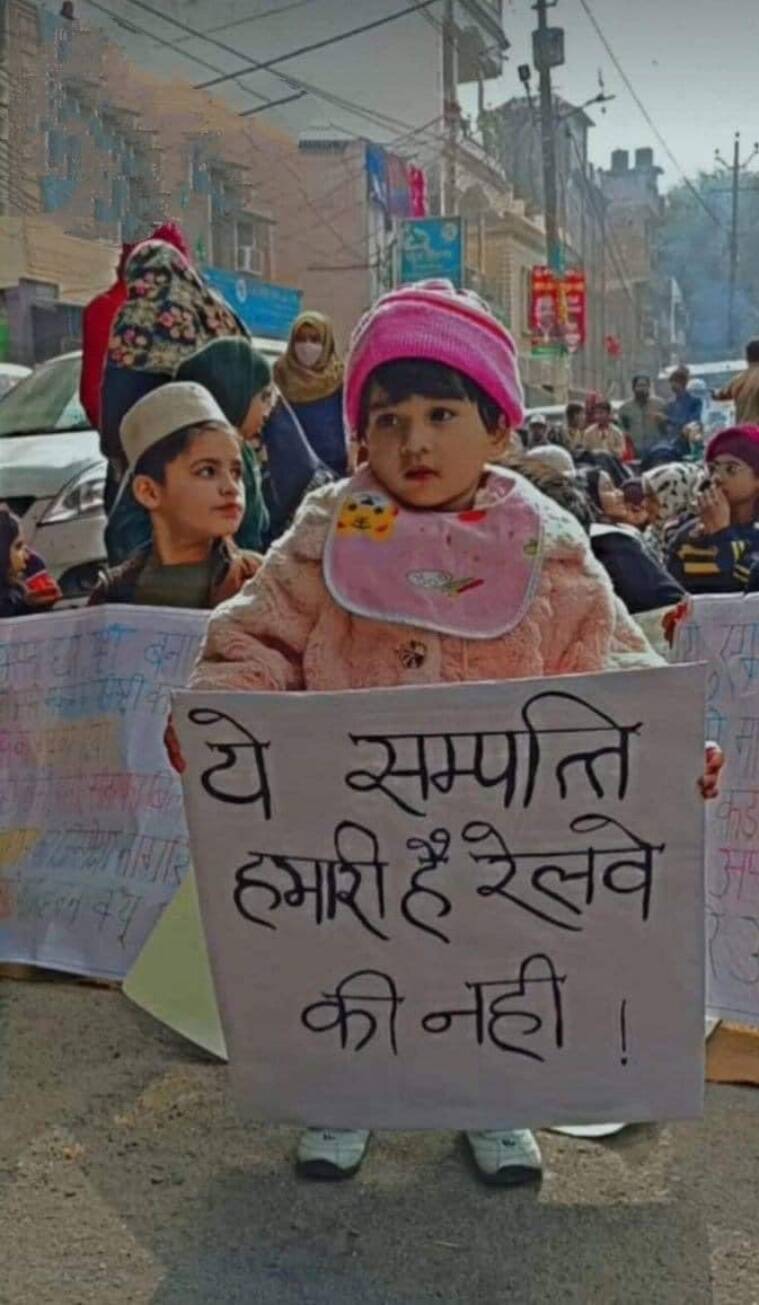 File phot
The beginning of the New Year has brought a lot of pain to more than four thousand families, mostly Muslims, after the Uttarakhand high court last week ordered them to evict their homes from January 1.
The HC last week directed the respondent authorities to evict forthwith the unauthorised occupants to vacate the premises from the railway land adjoining Haldwani Railway Station, commonly called as Gaffur Basti.
"What is important is that for the purposes of a nazul land to be recorded, its recording in the revenue records has had to be as per the provisions contained under Rule 5A of the Nazul Manual, which provides that every transfer by succession, sale, assignment or otherwise, the lessee and the person to whom, the lease rights are so transferred, shall get themselves recorded by filing an application in writing to the Collector or the Nazul Officer, appointed by the Collector for the said purposes", the Division Bench of Justice Sharad Kumar Sharma and Justice Ramesh Chandra Khulbe noted.
According to Nainital district officials, a total of 4,365 encroachments will be removed from the area. The residents, some of whom have been living there for decades, have been protesting against the court order.
Hundreds of "unauthorized occupants" have been protesting against the order of the High Court, asking the court to review its decision.
Some of the families have been living in the unauthorised colonies for 40-50 years and several residents were born in the very houses which are now expected to be demolished in the next 10 days. According to local sources, the encroachments include around 20 mosques and 9 temples, reported Indian Express.
During the hearing in this case, it was said on behalf of the residents that their side was not heard from the railways, so they should also be given a chance to be heard. While the railways argued that the railways has issued notices to all the families under the PPACT. At the same time, the state government argued that this land does not belong to the state government, it is owned by the railways, reported Maktoob media. The demolition driver will "pounce on encroachers" in the midst of 7,000 police officers and 15 paramilitary groups, according to reports.
Meanwhile, Jamiat Ulama-e-Hind leaders reached the demonstration site extended support to the families. In a letter to the Chief Minister Pushkar Singh Dhami, Dr. Nayyar Kazmi, state president of the All India Majlis-e-Etihad ul Muslimeen, Uttarakhand (AIMIM), stated that over 4,500 families have lived here for more than seven decades and they have electricity connections, house taxes, Jal Sansthan connections, and other residential credentials, reported the media outlet.
"In order to spare thousands of families from being wrecked by this one-sided decision, the government should also bring the side of these aggrieved families before the High Court, so that they can be saved from being homeless," he said in the letter.
-INDIA NEWS STREAM