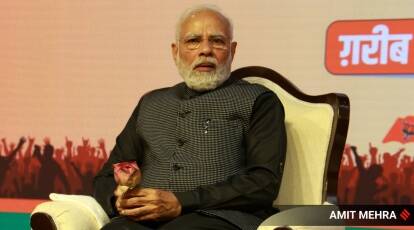 A day after calling BBC documentary on Prime Minister Modi a "propaganda piece" reflecting a colonial mindset, the Information and Broadcasting Ministry has asked YouTube and Twitter to take down fresh links of the show.
The BBC's two-part series, "India: The Modi Question" have looked at the details of the riots that occurred in Gujarat in 2002 while Modi was chief minister. After India slammed the move, the BBC defended its series. "The documentary was rigorously researched according to the highest editorial standards," a BBC spokesperson said in a statement.
The Ministry of Information and Broadcasting (I&B) on Saturday blocked multiple YouTube videos sharing the first episode of the BBC documentary "India: The Modi Question" have been blocked.
"The documentary was accordingly found to be undermining sovereignty and integrity of India, and having the potential to adversely impact India's friendly relations with foreign States as also public order within the country," Hindustan Times quoted the sources as saying.
Officials of several ministries including home and foreign, apart from I&B, have examined the documentary closely and found it to be an attempt to cast aspersions on the authority and credibility of the Supreme Court, according to NDTV. It further added that the officials in the ministries are also of the view that the documentary sow divisions among communities in India and make unsubstantiated allegations on actions of foreign governments in India, people with direct knowledge of the matter said.
The development was further confirmed after Trinamool Congress (TMC) MP Derek O'Brien claimed that Twitter removed his tweet on the documentary, calling it "censorship". He shared the screenshot of an email from Twitter stating that his message was removed at the request of the Indian government for violating Indian law.
The Congress has already claimed that Modi was still afraid of the truth about the 2002 riots coming out and that "blocking" the documentary was "cowardly and undemocratic".
"Narendra Modi is still scared of the truth about 2002 coming out 21 years later. The blocking of the BBC documentary that squarely blames him for the pogrom is a cowardly, undemocratic act, one that clearly shows Modi's dictatorial attitude," AICC general secretary organisation K C Venugopal said.
Notably, a Supreme Court-appointed investigation had found no evidence of wrongdoing by PM Modi, who was Chief Minister of Gujarat when the riots broke out in February 2002.
The BBC claimed the documentary is an attempt to examine how "Modi's premiership has been dogged by persistent allegations about the attitude of his government towards India's Muslim population."
-INDIA NEWS STREAM